Lathamís Snipe team visit Japan
3 August 2016
The Latham's Snipe project team visited Hokkaido, Japan between 9 and 22 July to work with the Wild Bird Society of Japan (WBSJ) on their snipe research. During the visit the team assisted with snipe capture and exchanged knowledge about snipe ecology and conservation. Dr Birgita Hansen presented at a WBSJ-organised community workshop on snipe, along with several other notable snipe experts from Japan. She and the project team participated in a workshop discussion on how to address declines in the species in Japan.
During both the workshop and snipe capture field work the Hokkaido Television Broadcasting and Hokkaido Newspaper were present. Birgita spoke with them about the project in Australia and the team's experiences working with their Japanese colleagues.
The project team also visited two schools, Uenae Elementary and Junior High School and Sapporo Kaisei Secondary School. There, Birgita spoke about the snipe research project and issues with wetland protection across the species' range. At Uenae Jodie and Richard lead a series of fun games with the students to share key messages about snipe. Postcards made by primary school students at Port Fairy Consolidated School were given to the students and they were encouraged to write back. At Sapporo Kaisei Secondary School a more serious conversation was had about conservation of snipe and their habitats, and group discussions with students enabled the team to speak about avian science and share their knowledge about bird studies.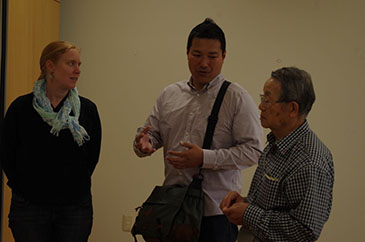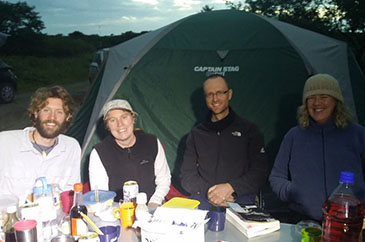 The trip was a great success and the team learnt a lot from their Japanese colleagues, as well as sharing many of the experiences and knowledge they have gained through their work in south-west Victoria. The Latham's Snipe project has forged a strong collaboration with the WBSJ and looks forward to future research visits and knowledge sharing.
The project team would like to thank the Australia Japan Foundation for providing financial support to visit Japan. They would also like to thank Tatsuya Ura, Seiji Hayama, Hironobu Tajiri, Keisuke Ueda, Takemae Asako, Kondo Syunsuke, and Abe Kazuyo at the WBSJ, Satoshi Nakamura and the friendly staff at Lake Utonai Nature Center, Dr Reiko Kurosawa at Japan Bird Research Association, and Oi-Yee-Claudette Chan and Iino Shuichi at Sapporo Kaisei Secondary School.
More information about the Latham's Snipe project can be found here or by contacting Dr Birgita Hansen.