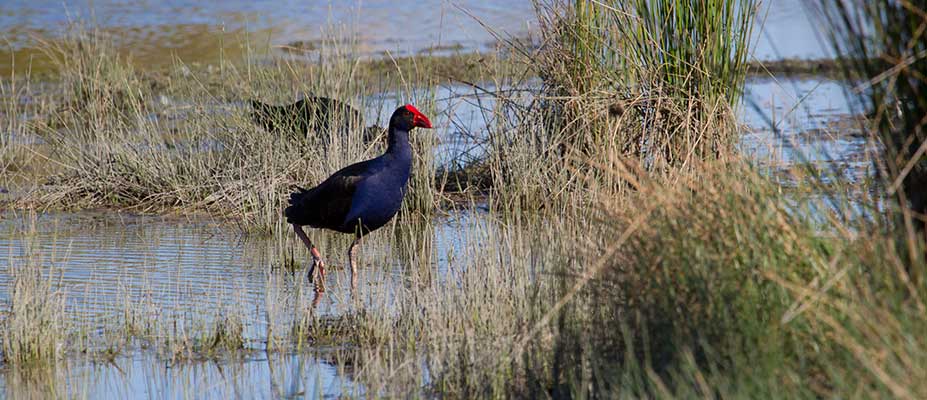 Visualising Victoria's Biodiversity
Visualising Victoria's Biodiversity (VVB) is an online portal that provides the Victorian community with access to a wide range of spatial information on Victoria's environmental values, conservation activities and research. The portal federates and visualises environmental data from national, state, regional and local sources in an interactive spatial interface. It also offers the opportunity for the community to contribute information and exchange locally relevant data and knowledge. VVB is a partner site to the SWIFFT (State-wide Integrated Flora and Fauna Teams) initiative.

Background
Visualising Victoria's Biodiversity consolidates access to spatial environmental datasets and information – created and managed by government agencies, organisations, community groups and individuals – into a user friendly and interactive web platform.
VVB is a CeRDI initiative and is overseen by environmental science researcher Rob Milne, with funding support from the Helen Macpherson Smith Trust.
Currently VVB offers a range of features for accessing and generating key environmental information with tools available to support:
generation of lists of environmental features such as flora and fauna records, for a user-selected area of interest;
map layers in which observations, environmental features, monitoring information and environmental events in any area of Victoria can be viewed and overlayed; and
information sharing about environmental projects or research.
The extensive spatial data catalogue available on the portal has been compiled from a wide range of sources including key state and national data repositories such as data.vic.gov.au

, the Victorian Biodiversity Atlas

and the Atlas of Living Australia

, as well as local and regional information shared by community groups and individuals.
With over 45 map layers currently available, VVB is revealing the depth and extent of the biodiversity knowledge and data that is available across Victoria. In commenting on the range of information presented on VVB Rob Milne confirmed,
The key purpose of the VVB is to offer the Victorian community and environmental sector improved and easy access to the vast amount of available environmental information to facilitate knowledge sharing, assist research and support decision making.
The establishment and development of VVB has been informed by the State Wide Integrated Flora and Fauna Teams (SWIFFT), community members and other key organisations and agency stakeholders. VVB is a partner site to SWIFFT which is a citizen science and knowledge sharing platform that aims to maintain, develop, and share knowledge and skills within Victorian communities for the protection and management of threatened species and biodiversity conservation.
Outcomes
VVB has provided a single access point and spatial visualisation of environmental information and data from multiple sources that was not previously available for the Victorian community. The VVB provides the community with improved access to information that helps build awareness of biodiversity values and issues in their area of interest and assists with decision making for conservation activities and planning.
The VVB has provided the facility for individuals, community groups and other stakeholders to contribute and share their spatial data and information in an open online environment. In collaboration with SWIFFT, the VVB has facilitated the exchange of community information and knowledge, environmental research, conservation projects and citizen science data.
Innovation
VVB provides a central gateway to biodiversity information that is not offered anywhere else. It draws upon a suite of technical developments undertaken at CeRDI to maximise the discoverability of spatial information and data. This includes a search and report function that provides direct linkages to information contained within the Victorian Government's open data library (data.vic.gov.au), the Atlas of Living Australia and other interoperable data repositories.
The novelty of VVB is the ease with which users can view the spatial information from various sources on a single mapping interface and query this information using custom-built reporting tools. Users seeking a repository for their local information can 'Share a project' using a simple online form with data upload tools. Data forms strive to complement current data standards, to ensure data collected through the VVB is compatible with other databases and able to be exchanged and used alongside these sources of information for planning and analysis.
Technical Features
Several technical features have been developed for VVB with the aim of making biodiversity information more discoverable and making the presentation of information more regionally or locally relevant to end users.
The 'Natural Values Report' tool within VVB allows the user to query information available on the portal (or linked to the portal through an Application Programming Interface) for a local area of interest. This feature is intended to meet the need of end users, by producing a list of environmental and biodiversity values (e.g., flora and fauna species list) in their area. Links to the original sources of information ensure that data is correctly attributed and that users can seek more information from the data custodian.
Approach
The approach taken was to build a community-focused open web application for accessing and sharing environmental information through deployment of interoperable web-GIS technology to visualise and exchange open data.
Future Directions
CeRDI will continue to develop and improve the VVB portal with continued input from the community, stakeholders, and users. Further interoperability and integration with other key information systems will be a priority.
RESEARCH OUTPUT

VVB is included as part of CeRDI's longitudinal impact research which measures the impact of technology on improved decision making and on supporting practice change. VVB fits under the pragmatic theme of Citizen Science. Wave 1 data collection has been completed and involved interviews, focus groups and an online survey. The analysis of this data is currently taking place. The results of this research will not only help to explore the impact of technology on decision making for practice change, but also help to inform future development of the VVB portal.
NEWS

Extending collaborative eResearch opportunities for Fighting Extinction... Continue reading...

---

CeRDI staff in have established an eResearch Collaboration with Zoos Victoria.... Continue reading...

---

A new open access community resource called Visualising Victoria's Biodiversity (VVB) was recently launched with the aim of facilitating information sharing and discovery about Victoria's environmental values, conservation activities and research. Continue Reading...