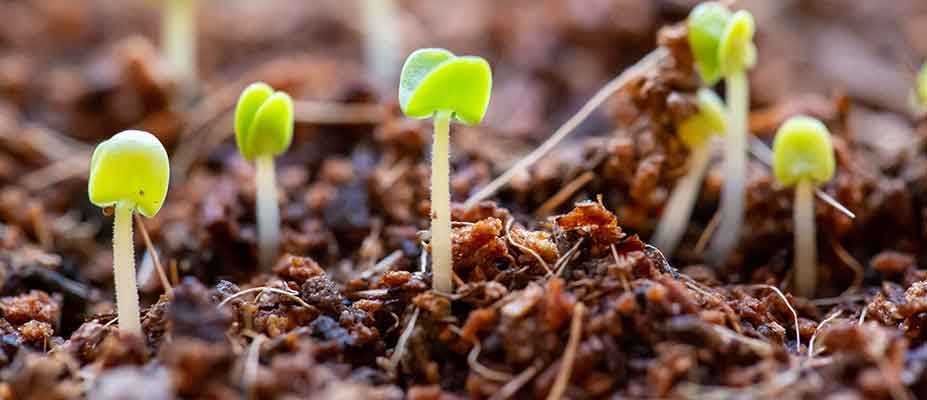 Agricultural Research Federation (AgReFed)
The Australian Research Data Commons (ARDC) has funded CeRDI to lead the Agricultural Research Federation (AgReFed) Platform to Transform Field-Based Agricultural Research. This project will support the next level of technology developments for AgReFed.
Background
Innovative farm technology has led to the increased collection of data by growers, agronomists, researchers, and industry, with the potential to conduct advanced analysis techniques for better prediction. However, these data are not always findable, accessible, or interoperable, and therefore not able to be easily integrated and reused. This leads to precious time lost in data cleaning and manipulation, or in worst case scenarios, poor science outcomes due to relevant data being ignored.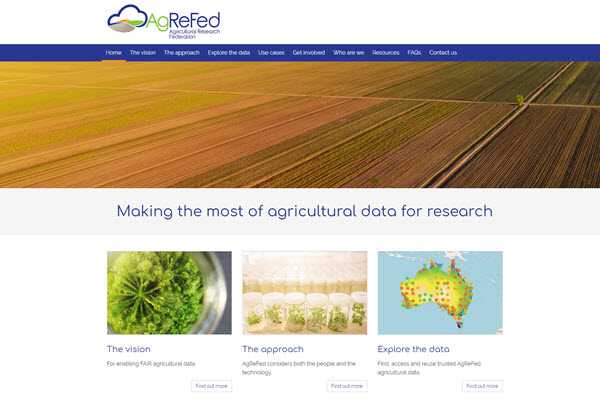 AgReFed has been implemented to overcome many of the existing data issues. It integrates biological and yield data with time-series environmental data, sensor data, hyperspectral imagery data, and spatial data, through the implementation of data exchange and metadata standards, controlled vocabularies, and services over the data. The AgReFed platform also supports collaboration and innovation in agricultural research, development, and policy by improving the discoverability of trusted, reusable, and analysis-ready agricultural research data across Australia.
Three ARDC supported AgReFed projects have been funded:
Agricultural Research Federation: Agriculture Data Cloud (2018-2019)
This pilot program tested the feasibility of an agricultural research data cloud. A social-technical framework for ongoing operation and sustainability was proposed.
Agricultural Research Federation Data Stewardship Framework Enactment (2019)
A white paper for the shared vision of AgReFed was created with founding partners, and the framework for AgReFed was enacted. Policies were co-developed, roles were filled (AgReFed Federation Council, AgReFed Technical Committee) and AgReFed founded.
AgReFed: A platform for the transformation of agricultural research (2021-2023)
This project will enhance the AgReFed platform to enable a transformation in the way that agricultural researchers collect, describe, and disseminate their research findings. The outcome will be the ability to search and discover trusted, reusable agriculture-related datasets, workflows, and models. This will facilitate data reuse and cross-discipline collaborations for novel research insights and practical applications in policy, reporting and on-ground decision making.
The last project commenced in 2019 when $1.4 million was awarded from ARDC and AgReFed participant contributions to make agriculture data FAIR (Findable, Accessible, Interoperable and Reusable). CeRDI hosted the project which has culminated in the development of the community and data ecosystem: AgReFed.
Outcomes
In this latest project, Agricultural Research Federation (AgReFed) Platform to Transform Field-Based Agricultural Research, project partners will expand the technology capabilities of AgReFed to support agricultural researchers to collect, describe, and disseminate their research findings. The project will address some of the current challenges facing agricultural researchers, who perform data management and analysis on desktop computers. Many have limited access to platforms, workflows and analysis tools designed for agricultural research.
The platform expansion commenced in 2021 and will be completed in 2023.
An Innovative Approach
This project is differentiated from other data initiatives with its primary focus on agriculture, its federated system architecture, the diverse sources of data, and in particular its social architecture. This will ensure the benefits are achievable, as each participant is being supported to make their data FAIR in a way that suits and serves them as well as the community, rather than being asked to conform to a single solution. The ability for participants and other stakeholders to be able to (interoperably) serve and consume data from the other participants to enhance agricultural research efforts will be the ultimate measure of success.
AgReFed is a unique approach. Data providers are part of the community that guides the technical infrastructure to meet the shared goal of making agricultural data more Findable, Accessible, Interoperable and Reusable (FAIR). The AgReFed Data Governance and Stewardship Framework has been developed and adopted. This 'living document' will help guide current and future data providers and users to engage as active participants of the AgReFed community. We hope you can join us as we work together with the common goal of improving the sharing and reuse of agricultural data (Source: ARDC).
Future Directions
It is envisaged that the AgReFed community will expand beyond contributing partners to serve the collective interests of the Agricultural Research Community.
RESEARCH OUTPUT

Whilst the agriculture sector has traditionally had strong translational links between research and industry, there is an increasing need for combining data from multiple sources to enable both research and industry to succeed. AgReFed will provide access to reliable, interoperable, enhanced agricultural data collections to enable seamless data input to decision support tools used by farmers and agronomists. This will accelerate innovation by enabling advanced analysis techniques, tools, and services to help inform management and policy decisions, thereby enhancing the translation of research to real world on-farm benefits.

To inform the latest platform developments, the project team is conducting research with stakeholders about their current experiences with accessing agricultural data, including how and what data they access and what trends, opportunities and barriers currently exist for data sharing. Analysis of the data will inform the AgReFed platform developments. Post implementation, research will again be conducted with stakeholders to explore their perceptions and usage of the AgReFed platform including how it is supporting data sharing within the agricultural research.
NEWS

The AgReFed Platform commenced earlier this year with the aim of accelerating research innovation and expanding participation.... Continue reading...

---

Federation University Australia and the Australian Research Data Commons (ARDC) have announced a new project... Continue reading...

---

Dr Megan Wong was appointed Secretariat for the Agricultural Research Federation (AgReFed), a community whose establishment was supported by the Australian Research Data Commons (ARDC).... Continue reading...

---

Agricultural Research Federation has now been enacted.... Continue reading...

---

In September, the work of AgReFed was presented by Paul Box from CSIRO Environmental Informatics at CODATA,China.... Continue reading...

---

The Agricultural Research Federation (AgReFed) aims to improve the sharing and reuse of agricultural data.... Continue reading...