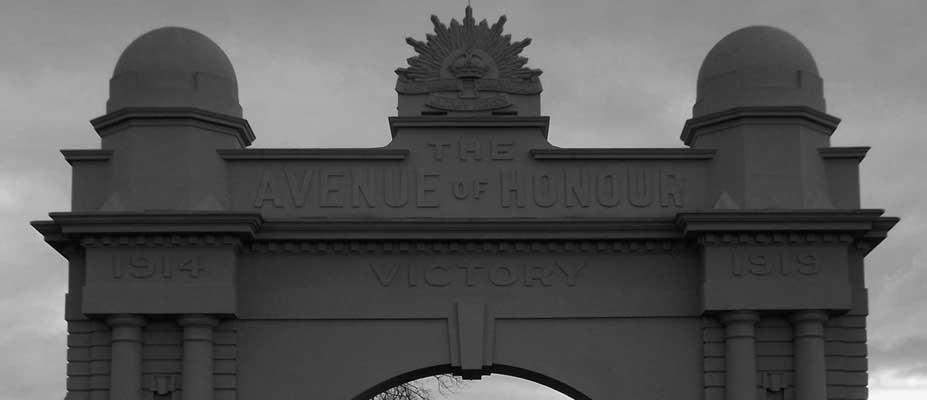 Lucas Girls Avenue of Honour: Audio tour
A series of audio tours

focusing on the men and women from Ballarat and surrounding districts who served during WW1 were launched in 2021. The eight audio tours, which are available via the Avenue of Honour website

, commemorate the substantial involvement of the employees (the 'Lucas Girls') from E. Lucas & Co textile company, who planted many of the trees along Ballarat's Avenue of Honour.

Background
The Lucas Girls audio tour is an important record of the Avenue's construction. It highlights the integral role that Mrs Tilly Thompson, Director of the E. Lucas & Co textile company, and the company's employees (the 'Lucas Girls') in fundraising and organising the tree plantings along the Avenue of Honour. The Avenue was officially opened in 1920 following three years of extensive tree plantings. It was the first of its kind in Australia and, at 22km in length and comprising nearly 4,000 trees, it is one of the longest Avenues in the Southern Hemisphere.
Dr David Waldron, local Historian and senior lecturer in History at Federation University's School of Arts successfully led this project. David conducted extensive research to inform each of the stories he wrote and that have since been narrated for the audio tour. CeRDI worked with David on this project providing the technical support for the inclusion of the stories on the website.
Outcomes
The eight stories represent an important 'episode' in the history and lives of people from Ballarat who served during World War I. Combined they provide a unified collection of experiences that reflect the challenges and the strength of character exhibited by local men and women and their families during the Great War. The stories include a commemoration of the Garden of the Grieving Mother, diary excerpts from the experiences of being on the front-line during WWI, Ballarat's Chinese ANZACS, Ballarat's young people who enlisted in the War, Prisoners of War, the Nurses at War, and the Lucas Girls involvement in the Avenue of Honour.
In commenting on the project, Dr Waldron said: "In an era when stories of war are often deeply partisan and politicised, I found it quite profound to get back to our common humanity. These were ordinary people from diverse backgrounds who found themselves in extraordinary and often horrific experiences. There is the tragic experience of those left at home, who often knew very little, just fragments, of what was facing their loved ones overseas. I feel quite privileged to be part of that experience."
NEWS

A series of audio tours focusing on the men and women from Ballarat and surrounding districts who served during WW1 was recently launched.... Continue reading...
PARTNERS

Project funding and support

Funding for this project was received from the Veteran's Branch, Department of Families, Fairness and Housing (Veterans Branch) through the Victoria Remembers Minor Grant Program.

Additional support was also received from Federation University and the Ballarat Mechanics Institute with input and support from members of both the Ballarat Arch of Victory/Avenue of Honour Committee and the Lucas Past Employees Association.