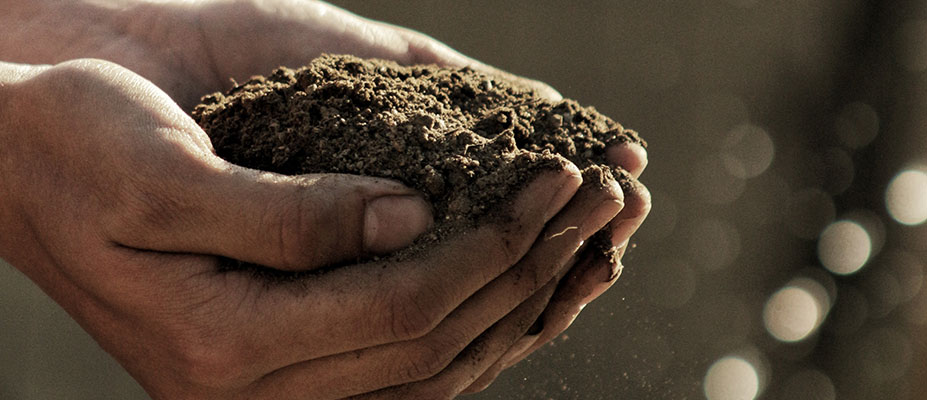 Visualising Australasia's Soils
Visualising Australasia's Soils (VAS) aims to provide participants of the Cooperative Research Centre for High Performance Soils (Soil CRC

) with access to considerable volumes of reliable quality soil data sourced from a federation of soil data custodians who share their data according to the rules they set. CeRDI is the lead partner on the project, which comprises two phases. The first phase of the project (2018-2021) culminated in the successful development a cloud based, research data federation for soils, with spatial mapping guidelines. The second phase of the project commenced in July 2021 and will expand VAS to enable full data sharing, data access and usage for Soil CRC participants.

Background
CeRDI is a major participant in the Soil CRC which awards research funding from the Federal Government with the aim of helping Australian farmers make decisions on complex soil management issues.
The first phase of the VAS project comprised a total investment of $1.18M (including $510,000 funding) to support industry data sharing and data access and usage and to develop the VAS online portal. The portal provides access to shared public and private soils research data. An additional $940,000 funding (which is a component of the total project value: $2.37M) was awarded to expand VAS over the coming three years (to 2024) as an independent and enduring soil research data federation that is self-sustaining and meeting the needs of end users and providing value for research and education.
CeRDI's Associate Prof Peter Dahlhaus is leading the project together with members of the CeRDI research and technical team.
Outcomes
The first phase of VAS was completed in 2021. The following key deliverables were completed during phase 1:
Data Governance and Stewardship Guidelines. These have been reported as a discussion paper and are available to VAS project members and the Soil CRC website.
VAS data portal with spatial mapping: https://data.soilcrc.com.au
A social engagement report, Visualising Australia's Soils: Social Engagement & Collaboration Learnings prepared by CeRDI Research Fellow Dr Amie Sexton. The document is publicly available on the Soil CRC website:https://soilcrc.com.au/wp-content/uploads/2020/12/VAS-Social-Engagement-Report-2020_FINAL.pdf
A systems architecture report for VAS, containing the technology vocabularies.
A soils data inventory and summary. This comprises methods and scripts and assessment of VAS within the context of the FAIR (findable, accessible, interoperable, reusable) principles for data.
Data Federations in Agriculture , a short documentary film about interoperable data federation using VAS as a case study.
A final report for phase one, submitted to the Soil CRC.
Innovation
The VAS portal allows custodians to retain data ownership and control how and what data is shared. The development of a governance and stewardship model for data custodians, which extends the earlier work linked to the Agricultural Research Federation (AgReFed), establishes the guidelines under which data can be shared and accessed.
Research is also being conducted in parallel with the second phase of VAS project. It will inform future portal developments and gauge the impact of the portal (on practice change and decision making, for example) on users/project partners. The research will provide insights that will inform future directions for the soil data federation.
Technical Features
The interoperable spatial knowledge system provides Soil CRC participants and the broader agricultural industry with access to data, information and knowledge on Australasian soils. The project leverages established technologies developed by Assoc Prof Dahlhaus and the team at CeRDI to federate data from disparate sources in both the public and private sector, making agriculture data more Findable, Accessible, Interoperable and Reusable (FAIR).
Approach
A data stewardship and governance model for custodians was established for VAS. This outlines the rules under which access to data, or parts of their data, is possible. A key differentiator from other soil data initiatives is that data custodians will be empowered with the skills, know-how and tools to enable their soil and agriculture data to be seamlessly integrated with other agricultural data, via next generation data models and knowledge products. This enhances decision-making and generates new insights into the profitability and resilience of Australian agriculture.
Future Directions
Phase two will support the uptake of VAS by project participants, especially the farming groups in the Soil CRC by demonstrating benefits of the portal. The ultimate goal is to co-create an enduring component of an Australasian soils knowledge system that is self-sustaining and inherently useful for research and education.
Three aims are associated with this second phase of VAS:
Co-develop the functionality of the VAS online portal to demonstrate value for the participants (both farming groups and researchers)
Maximise the re-use potential of the federated soil data for research innovation and project participants' purposes through enabling data that is discoverable, accessible and well described (semantically interoperable) to both humans and machines
(By 2024) Transition to an agreed governance model that ensures that the future of the VAS data federation is supported by the members, and enduring.
TEAM MEMBERS

Project Team (listed in funding application):

Associate Professor Peter Dahlhaus, CeRDI, Project Lead
Mr Andrew MacLeod, CeRDI, Technical Lead
Dr Nathan Robinson, CeRDI, Soil Science Lead
Dr Alison Ollerenshaw, CeRDI, Social Science Lead
Mr Bruce Simons, CeRDI, Information Architecture
Dr Megan Wong, CeRDI, Ontologies, Vocabularies
Associate Professor Helen Thompson, CeRDI, Project/Data Integration (National)
David Medyckyj-Scott, MWLR, Project/Data Integration (International)
Alistair Ritchie, MWLR, Technical Architecture
Brandon Whitehead, MWLR, Text/data mining
Hanabeth Luke, SCU, Social science integration
In-Young Yeo, UoN, Big data application/model


Additional team from CeRDI:

Mr Rob Milne, soil data mapping and scheduling
Dr Angela Neyland, soil data mapping
Ms Jennifer Corbett, soil data preparation
Mr Heath Gillett, soil data uploading
Dr Carolyn Staines, social science
VIDEOS

Data Federations in Agriculture

For generations, Australasian farmers have gathered and shared knowledge on how to grow better crops. In the 21st century it makes sense to use technology to improve our agricultural know-how and profitability. But how can that be achieved?

Visualising Australasia's Soils - Ballarat Workshop 2019 (4:28)

Project kick-off workshop 11-14 February 2019 held at CeRDI, Federation University, Ballarat.
NEWS

The CeRDI-led, collaborative project Visualising Australasia's Soils is featured in the 2020-2021 Soil CRC Annual Report . In the report, VAS was presented as a case study documenting the achievements of the pilot project for improving soil data access and development of a dedicated data portal for project partners.

---

Visualising Australasia's Soils - IoT Awards 2021 Interoperability by Design category Finalist... Continue reading...

---

CeRDI recently launched a new documentary video: Data Federations in Agriculture.... Continue reading...

---

Associate Professor Peter Dahlhaus is finalising the key milestones associated with Visualising Australasia's Soils Stage 1.... Continue reading...

---

Extensive research engagement during 2019 on the Visualising Australasia's Soils (VAS) culminated in the December-launch... Continue reading...

---

Pilot data portal launched, Meetings with projects participants, Finding the Value Proposition, An ocean of soil data, What is next.... Continue reading...

---

Short video explainer, Soil data pilots, Pilot soil data portal, What's next, and Project in a nutshell.... Continue reading...

---

The first Visualising Australasia's Soils project newsletter has been released.... Continue reading...

---

The 2-year project, funded by the Soil CRC, will create a web portal to access shared public and private soil datasets.... Continue reading...