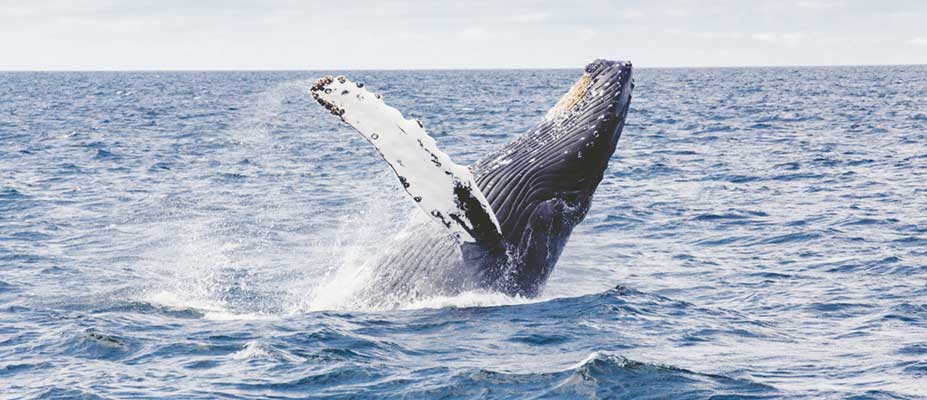 Southern Right Whale photo identification project
CeRDI has worked with the Department of Environment, Land, Water and Planning (DELWP) and the Arthur Rylah Institute to develop a new citizen science web portal for the State Wide Integrated Flora and Fauna Teams (SWIFFT) website. The portal has been created to support the Southern Right Whale research and photo identification program being undertaken by DELWP in Victoria.

Background
Monitoring and recording of Southern Right Whales off Victoria's coastline is a vital activity to support and protect this critically endangered species. Each whale has a unique pattern of white features (callosities) on their head that can be used to identify individual whales.
Capturing photos and sightings of whales by citizens can assist in their identification and cataloguing by DELWP researchers.
Outcomes
Launched in April 2019 on the SWIFFT website, the new portal now provides an easy-to-use online interface with image uploading functionality to support community contribution of Southern Right Whale (and other whale species) sightings and photos off Victoria's coast.
The collection of sighting data through the portal assists DELWP in monitoring movements, breeding patterns, habitat use and trends in the population size of the whales. This enables DELWP researchers and staff to identify and monitor individual whales, and to continue their important work to conserve and protect the species.
Technical Features
The CeRDI team, under the leadership of Rob Milne, has played a key role in developing the customised online interface on the portal. The tool allows users to upload sighting photos and to submit details into a central database. The application is built on basic authentication system so that only registered users can submit or view data. Modern technical standards have been adopted to ensure the application is simple and user focused.
NEWS

CeRDI has worked with DELWP and the Arthur Rylah Institute to develop a new citizen science web portal.... Continue reading...