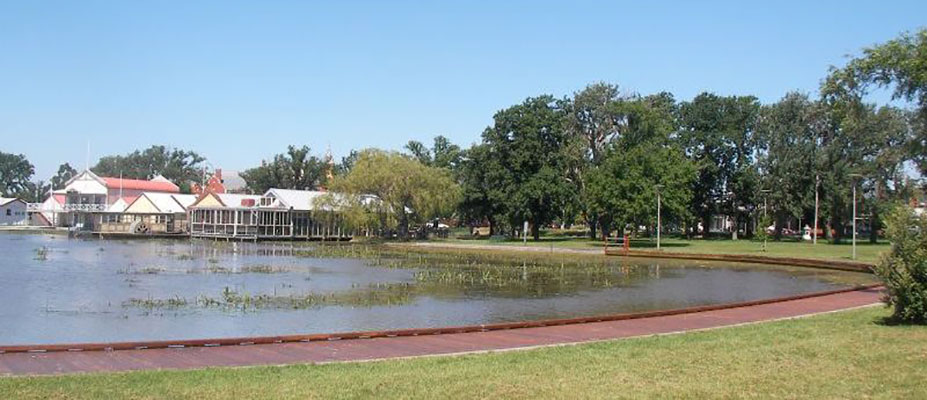 City of Ballarat Smart Cities and Suburbs
CeRDI and Federation University have partnered with the City of Ballarat (https://www.ballarat.vic.gov.au/

) to provide physical and digital infrastructure for open community data sharing and innovation, internet of things technology and data driven decision making. This involves the installation of a new open communications network and the development of an open data sharing platform - Ballarat Open Data to be launched in June 2020.
Background
Internet of things (IoT) technologies provide new opportunities for smarter devices, improved efficiency and sustainability and data driven decision making. This project establishes the infrastructure required for this technology for the Ballarat community with an open LoRaWAN (Long Range, low power Wide-Area Network) service.
Utilising this network the City of Ballarat and Federation University are undertaking a series of pilot studies to explore the use of smart sensors and devices for evidence-based decision making. This includes the use of anonymous people counters/sensors to better understand Federation University room utilisation for future investment in infrastructure planning and increasing energy efficiency.
Complimentary to these pilot studies and a major part of the project is the development of a new community-based open data sharing platform: Ballarat Open Data. This will include datasets generated by the pilot studies as well as bring together and provide a platform for open data sharing from a range of local organisations and community groups. This will enable the City, University, start-ups and our community to embrace opportunities presented by new technologies and support more effective use of data and collaboration.
Outcomes
The key outcomes of the project are:
An open IoT network at Lake Wendouree, Federation University and Ballarat's creative district.
The creation and launch of Ballarat Open Data - to enable effective data management publishing, access, sharing and community engagement.
Smart places and smart environment pilots for data driven decision making by Federation University and City of Ballarat.
Innovation
New innovations of this project include:
The development of a new model of data sharing that is cross-organisational and available equally to local organisations, industry, government and community groups.
The discovery and publishing on Ballarat Open Data of new datasets about the Ballarat region enabling future innovation and collaboration.
The showcasing of new ways of communication integrating data sets from a variety of sources to tell interactive 'data stories'.
The digital enablement of a large area of Ballarat including Lake Wendouree the Ballarat CBD and Federation University Mt Helen campus with a new publically available LoRaWAN network service.
The smart environments and places pilots by Federation University and City of Ballarat testing the capability of smart sensors to improve sustainability and better plan services and infrastructure upgrades.
Technical Features

The Internet of Things (IoT)
IoT refers to the collection of physical devices or smart infrastructure that are internet enabled and can communicate data in real-time. This takes the internet beyond the virtual or digital world, into the devices, buildings and infrastructure around us. A fitness tracker watch that syncs to a website tracking exercise is an example of an early IoT device many will be familiar with. IoT however takes that concept further by allowing the linking of smart devices and information as a network. An example would be linking smart weather stations and soil moisture probes with smart irrigation systems that can more efficiently use water only when it's required. The benefits of this technology include new possibilities for energy efficiency and sustainability, live-feed data collection for better decision making and improved service delivery.

LoRaWAN and the Things Network
This project provides a major upgrade of digital infrastructure for enabling IoT technology in the City of Ballarat. Previous to this, the use of IoT technology was limited to areas with WIFI such as inside buildings or the use mobile internet enabled smart devices with their own SIM card and associated data costs. The roll out of a new LoRaWAN (long range, low power wide-area aetwork) in Ballarat is a significant improvement for this technology and in line with the current global best practice in wireless connectivity for IoT.
The new LoRaWAN network is focused around the Ballarat cultural and business centres, Mt Helen Federation University campus and Lake Wendouree. It is a free, open wireless network service enabling any organisation, community group or individual to connect LoRaWAN enabled devices. Data from devices are communicated via the Things Network which is an open source, global decentralised network for IoT devices and allows users to access their data feeds and integration with digital applications. Because of the open source nature of this technology, there is the maximum potential for digital innovation including at grass-roots levels. The Ballarat Hackerspace

for example have provided workshops for participants to build their own IoT devices.
For further information on this technology see the Things Network

.

Federation University Smart Buildings Pilot Study:
Installation of nCounters at Mt Helen Campus to count pedestrians in the centre of the campus and technology parks and motion detector sensors in the rooms to measure occupancy and utilisation. Data generated will be used to understand the use of the building and better plan for maintenance, heating requirements and infrastructure upgrades.
Ballarat Open Data:
Built using open-source technology (CKAN)
Harvests locally relevant datasets from other authoritative repositories including data.gov.au and data.ballarat.vic.gov.au
Approach
CeRDI and the City of Ballarat are using their connections with local organisations and community groups to discover data that could contribute to Ballarat Open Data.
Future Directions
Ballarat Open Data will be launched in June 2020. Along with the new LoRaWAN network, this will provide the local digital infrastructure needed for future data sharing and digital innovation.
The IoT pilots undertaken by Federation University and City of Ballarat will create improvements in efficiency and sustainability through data driven decision making. These pilots are a test-case for the utility of IoT technology and it is envisaged that in the future it these will be expanded for a wider set of use-cases.
NEWS

A successful collaboration between the City of Ballarat and Federation University has led to the creation of an innovative, open data sharing platform... Continue reading...
PARTNERS