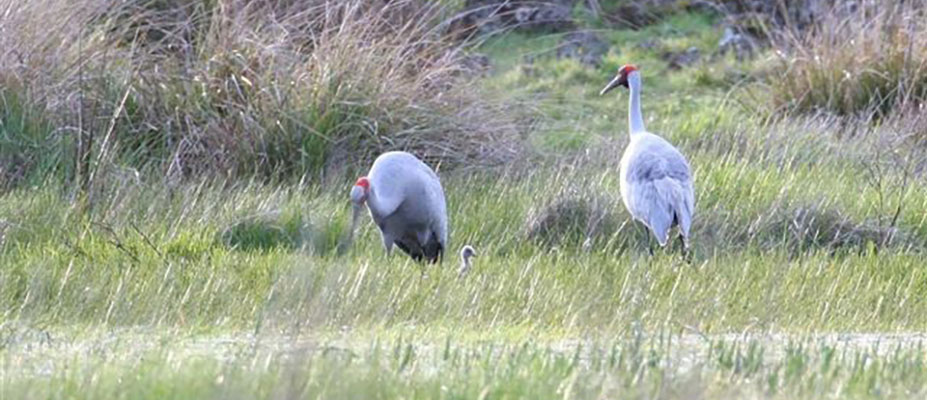 The State Wide Integrated Flora and Fauna Teams (SWIFFT)
The State Wide Integrated Flora and Fauna Teams (SWIFFT) is an initiative to advance citizen science by facilitating awareness and the sharing of knowledge in relation to biodiversity conservation and threatened species for Victoria.

Background
SWIFFT (the State Wide Integrated Flora and Fauna Teams) is a network of organisations, agencies, community groups, land managers and individuals, who share an interest in biodiversity conservation and the protection of nature.
SWIFFT represents the collective knowledge of a wide range of biodiversity stakeholders including Landcare, Field Naturalists and Friends groups, environmental consultants, Local Government, tertiary Institutions, conservation agencies, non-government organisations (such as Trust for Nature, Greening Australia, and BirdLife Australia), Catchment Management Authorities, Parks Victoria, and the Victorian Department of Environment Land Water and Planning (DELWP).
The objective of SWIFFT is to maintain, develop and share knowledge and skills within Victorian communities for the protection and management of threatened species and biodiversity conservation.
The SWIFFT website began in its early days as a Wiki and has recently been redeveloped with a grant from the Helen Macpherson Smith Trust, to improve accessibility of information, as well as linking to external threatened species and biodiversity information housed and maintained by other organisations. SWIFFT is complemented by its partner site, Visualising Victoria's Biodiversity, which provides spatial information on Victoria's environmental values, conservation activities and research.
SWIFFT is a community initiative supported by CeRDI, the Ballarat Environment Network, DELWP and the Helen Macpherson Smith Trust.
Outcomes
SWIFFT has made a significant contribution to the sourcing, compilation, and dissemination of biodiversity information, and provides the public with an easily accessible, comprehensive resource for threatened species knowledge. SWIFFT's success hinges on the vast breadth of information, from multiple sources, linked within the site. It highlights monitoring and research from across Victoria and acknowledges the contribution of many stakeholders toward biodiversity conservation.
SWIFFT, with support from DELWP, has hosted a series of video conferences since 2005. In recent years, these have attracted the participation of more than 70 organisations and 400 individuals and have advanced the sharing of biodiversity knowledge between different stakeholders and communities.
Recent investment from the Helen Macpherson Smith Trust has resulted in the development of a complementary mapping portal, Visualising Victoria's Biodiversity (VVB). VVB spatially represents many of the resources available on SWIFFT, as well as providing a set of tools for data querying and sharing. In addition, the SWIFFT site has been re-developed to increase the ease of access to biodiversity information, as well as linking to a key repository for biodiversity information nationwide, the Atlas of Living Australia (ALA).
Through support by HMST, CeRDI, DELWP and the SWIFFT coordinator, SWIFFT is engaging more community groups, researchers and biodiversity data custodians in knowledge sharing. The body of information now available through SWIFFT and VVB is extensive and growing.
Innovation
SWIFFT and VVB provide a central repository or gateway to biodiversity information that is not offered anywhere else. It draws upon a suite of technical developments undertaken at CeRDI to maximise the discoverability of information. This includes a search function that provides direct linkages to information contained within the ALA.
VVB brings together varied and sometimes disparate sources of biodiversity information into a single point of access, some of which is not available anywhere else. This includes all publicly available Victorian Biodiversity Atlas data and ALA flora and fauna records.
The novelty of VVB is the ease with which users can view the spatial information from various sources on a single mapping interface and query this information using custom-built reporting tools. Users seeking a repository for their local information can 'Share a project' using a simple form with data upload tools. Data forms strive to complement current data standards, to ensure data collected through the VVB is compatible with other databases and able to be used alongside these sources of information for planning and analysis.
The re-development of the SWIFFT website combined with VVB means that biodiversity information is now more accessible than ever.
Technical Features
Several technical features have been developed for SWIFFT and VVB with the aim of making biodiversity information more discoverable and making the presentation of information more regionally or locally relevant to end users.


The new search functionality in SWIFFT uses a Trove-style interface to represent information contained within the website. It also provides links to thematically related information on the ALA website, by utilising the ALA Application Programming Interface (API). This functionality has been designed to link to other information repositories in the future e.g., the Terrestrial Ecosystem Research Network (TERN).
The 'Natural Values Report' tool within VVB allows the user to query all information contained within the portal (or linked to the portal through APIs) for their local area of interest. This feature is intended to meet the need of end users, by producing a list of environmental and biodiversity values (e.g., flora and fauna list) in their area. Links to the original sources of information ensure that data is correctly attributed and that users can seek more information from the data custodian.
Approach
SWIFFT, which started off focusing on south-west Victoria, was established in 2004 as a wiki site hosted by BIRD. It was a combined initiative between the community, conservation, education, and government sectors, and was initially supported by Ballarat Environment Network and the (then) Department of Sustainability and Environment South West Region.
SWIFFT was designed to facilitate advancement of Citizen Science through awareness, information and knowledge sharing in relation to biodiversity and threatened species across Victoria. It was intended to be a freely accessible network for anyone in the community who has an interest in biodiversity and threatened species.
SWIFFT provides an efficient means of sharing knowledge between researchers, managers of biodiversity assets, community-based conservation groups and the broader community.
Since 2012, SWIFFT has received support from Federation University - Centre for eResearch and Digital Innovation (CeRDI) and the Department of Environment and Primary Industries, Victoria. This has enabled SWIFFT to expand beyond south-west Victoria.
SWIFFT is not intended to compete against or duplicate existing programs or web resources. It openly provides links to other web sites, organisations, and sources of information.
SWIFFT provides information on biodiversity and threatened species but unlike many other species related web sites SWIFFT also provides current information on management activities, current events, news, and project outcomes. It is a place where people can find and share up-to-date and recent history information relating to threatened species and biodiversity conservation. SWIFFT actively encourages contributions which are key to knowledge sharing.
SWIFFT web pages and quarterly video conferences now cover the whole of Victoria. This is reflected in the development of its partner site, VVB. SWIFFT has provided new opportunities for sharing knowledge which have been actively embraced.
Future Directions
SWIFFT and VVB aim to be the leading Victorian citizen science and knowledge networking platform / service for biodiversity conservation and education in all regions of the state.
To achieve this, the SWIFFT project will further extend engagement to include new regional biodiversity stakeholders, technology improvements and skills and capacity building of targeted end users. The mechanism for increasing engagement with SWIFFT and expanding biodiversity information further will be the establishment of other coordinators roles and work alongside the current SWIFFT coordinator.
Additional funding has been secured from the Helen Macpherson Smith Trust to continue the development of the SWIFFT and VVB projects through 2019.
RESEARCH OUTPUT

SWIFFT is included as part of CeRDI longitudinal impact research measuring the impact of technology on improved decision making and on supporting practice change. SWIFFT fits under the pragmatic theme of Citizen Science. Wave one data collection has been completed involving interviews, focus groups and an online survey. The analysis of this data is currently taking place. The results of this research with not only help to explore the impact of technology on decision making for practice change, but also help to inform future development of the SWIFFT initiative. For more information, longitudinal research and the findings to date visit the Longitudinal Impact section of our website.
NEWS

The partnership between CeRDI and Zoos Victoria has become firmly established over recent years.... Continue reading...

---

Online 9:45am to 12:00pm Thursday 26 March 2020... Continue reading...

---

CeRDI is collaborating with Zoos Victoria on an important project.... Continue reading...

---

Extending collaborative eResearch opportunities for Fighting Extinction... Continue reading...

---

CeRDI has worked with DELWP and the Arthur Rylah Institute to develop a new citizen science web portal.... Continue reading...

---

CeRDI staff in have established an eResearch Collaboration with Zoos Victoria.... Continue reading...

---

New website launch, Regional Workshops, Collaborations, and a visit by the Threatened Species Commissioner.... Continue reading...

---

The State Wide Integrated Flora and Fauna Teams (SWIFFT) is an initiative to advance citizen science by facilitating awareness and the sharing of knowledge in relation to biodiversity conservation and threatened species for Victoria... Continue reading...