Assoc Prof Helen Thompson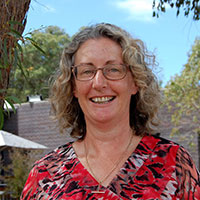 Centre Director
Assoc Prof Thompson commenced as CeRDI Director in 2002. Under Helen's leadership, CeRDI has become one of Federation University Australia's most successful research centres, establishing a reputation for excellence at the regional, national and international level. As CeRDI Director, Helen focuses on:
The application of information and communications technology (ICT) and the development of innovative, world class knowledge management systems;
Significantly advancing the digital literacy and knowledge management capabilities and capacity of partner organisations;
Fostering the development and implementation of eResearch within industry, government and academia; and
Measuring the impact of eResearch and digital innovation through longitudinal research.
CeRDI has established a strong reputation for excellence having facilitated significant research funding and partnerships on substantial research projects and the formation of more than 100 long-term partnerships with industry, government, other universities and across the local and wider community and region. CeRDI research income represents approximately one-quarter of total Federation University research income.
Helen has accepted numerous awards for innovative initiatives undertaken by CeRDI. She is an active leader across of the University community and a member on various University and community linked committees and organisations. Helen provides university wide leadership for eResearch and is involved in a range of activities which contribute to the economic and social development of regional and rural Australia.
Helen is also an Associate Member of Federation University's Future Regions Research Centre

.
Call: 03 5327 9418
Email: h.thompson@federation.edu.au
ORCID ID: https://orcid.org/0000-0001-7698-450X

Qualifications
2010: Doctorate of Business Administration, University of Ballarat
1999: Bachelor of Commerce (Accounting) with Distinction, University of Ballarat
Awards
2016: Victorian Spatial Excellence Winner for Award for Environment and Sustainability (Corangamite Natural Resource Management Planning Portal)
2016: Victorian Spatial Excellence Winner for Award for Spatial Enablement (Online Farm Trials)
2015: Asia Pacific Spatial Excellence Award (Corangamite Soil Health Knowledge Base)
2015: Victorian Spatial Excellence Winner for Award for Environment and Sustainability (Corangamite Soil Health Knowledge Base)
2015: Victorian Spatial Excellence Winner for Award for People and Community (Historic Urban Landscape and Visualising Ballarat)
2013: Victorian iAwards Winner in Regional Category (Visualising Victoria's Groundwater)
2013: National iAwards Merit Award in the Regional Category (Visualising Victoria's Groundwater)
2013: Australian and New Zealand Internet Awards (ANZARIA) Finalist in the Innovation Category
2013: Asia Pacific ICT Alliance Finalist in the Sustainability and Environmental Technology Category
2013: Smart 21 Communities Intelligent Communities of the Year for Ballarat
2011-2013: National Broadband Champion appointed by Minister for Communications Senator Stephen Conroy
2010: actKM Silver Knowledge Award for the Effective Design and Implementation of UoB Policy Administration and Management System
2010: Smart 21 Communities Intelligent Communities of the Year for Ballarat
2009: Vice-Chancellor's Award for Team Excellence - Entrepreneurship Category
Professional associations
Federation Business Centre of Excellence Program Control Group (since 2021)
Agricultural Research Federation Council (Chair since 2020)
Australian Research Data Council and Federation University Australia Engagement Group (since 2018)
Federation for the Advancement of Victorian eResearch (FAVeR) (since 2016)
Australian eResearch Organisation (since 2012)
Djerriwarrh Health Services Board Member (2014-2015)
GovHack Ballarat Working Group (2014-2018)
Victorian Spatial Excellence Awards Award Judge (2014)
Victorian Regional Communications Plan - Regional Sounding Board (2013)
Committee for Ballarat Maximising eHealth Taskforce (since 2012 and Chair 2014-2016)
Digital Rural Futures Conference Organising Committee (2012-2016)
Victorian Spatial Information Association (since 2011)
Victorian eResearch Strategic Initiative - Program Coordinating Committee (2011-2014)
Australian Communications Consumer Action Network (2011-2014)
Victorian eHealth Network founding member, past committee member (2008-2014)
VicICT for Women (Regional Board member 2008-2010) (since 2008)
Ballarat ICT Deputy Chair and Director (2007-2013)
International Journal of Cases on Electronic Commerce - Member Editorial Advisory Board (since 2004)
The Journal of Community Informatics - Reviewer (since 2004)
Community Informatics Research Network (since 2003)
Ararat Community Building Project Steering Committee (2003-2006)
Australian and New Zealand Regional Science Association Inc member (2002-2010)
Moorabool Community Capacity Building Initiative (2000-2001)
Ararat Asset Based Community Development Project Strategy Committee (1999-2001)
Professional experience
Federation University, Mount Helen, Victoria
Director Centre for eResearch and Digital Innovation (CeRDI) (since 2006)
Centre Manager Centre for eCommerce and Communications (CeCC) (2002-2006)
Project Leader CeCC (1999-2000)
Spencers Accountants
Business Services Accountant and Assistant Financial Planner (1996-1999)
Office Manager (1993-1996)
St George Bank (Victorian Savings & Loans)
Borrowers Support Supervisor Victoria (1990-1993)
Administrative positions in Accounting, Financial Planning and Customer Service (1983-1990)
Coltman's Mitre 10
Administrative assistant (1981-1983)
Associate supervisor
Completed supervisions