Dr Judi Walters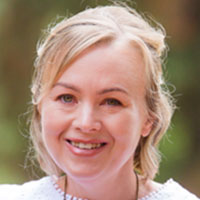 Research Associate
Judi joined the team at CeRDI in 2015, having worked extensively within the field of scientific publishing, writing, and editing. She has a PhD from The University of Melbourne (based at Centre for Forest and Ecosystem Sciences) and an MSc from the University of Queensland (from field work conducted at the Queensland Forest Research Institute) where her research focussed on regeneration ecology of eucalypt forests. Judi is now assisting with a number of natural resource management projects at CeRDI.
Email: jr.walters@federation.edu.au
ORCID ID: https://orcid.org/0000-0001-9772-6358

Peer-reviewed journal papers

Walters, J., and Light, K, (2021), The Australian digital Online Farm Trials database increases the quality of systematic reviews and meta-analyses in grains crop research. Crop & Pasture Science 72: 789–800.

Walters, J.R., Light, K, Robinson, N, (2020). Using agricultural metadata: an novel investigation of trends in sowing date in on-farm research trials using the Online Farm Trials database. F1000Research, 9,1305.

Walters, J.R., Milne, R., & Thompson, H. (2018). Online farm trials: A national web-based information source for Australian grains research, development and extension . Rural Extension and Innovation Systems Journal, 14(1), 117-123.
Conferences

Robinson N., Thompson H., Dahlhaus P., Feely P., MacLeod A., Wong M. & Walters J. (2019). What's FAIR about Digital Agriculture? steeDA, Conference on science, technology, engineering and economics for Digital Agriculture, 3-5 December 2019, The University of Sydney, Australia.

Robinson N., Dahlhaus P., Feely P., Light K., MacLeod A., Milne R., Parker J., Thompson H., Walters J. & Wills B. (2019). Online Farm Trials (OFT) – the past, present and future. Cells to Satellites. 19th Australian Agronomy Conference, 25 – 29 August 2019, Wagga Wagga, NSW.
Reports

Sexton A, Murphy A, Wills B, Robinson N, Walters J, Corbett J and Parker J (2019) Online Farm Trials (OFT) Impact Research. Centre for eResearch and Digital Innovation, Federation University.