Assoc Prof Peter Dahlhaus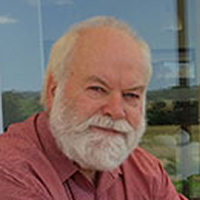 Principal Research Fellow
Peter's career spans 40 years in engineering geology, environmental geology and hydrogeology working in private and public sectors, investigating the geology, geomorphology, soils, groundwater and geohazards in south west Victoria. He has been influential in applying his scientific knowledge to direct policy on salinity, soils and catchment management. Peter is well-known as a science communicator by his students and community groups, and as an independent advisor to Catchment Management Authorities, water authorities and municipalities in the region. With his colleagues at CeRDI, Peter's current research focuses on spatial data interoperability and visualisation to ensure that environmental data, information and knowledge are globally and publicly available. He is an active collaborator on the development of international data exchange standards and a participant in national Cooperative Research Centres. Peter's passion is for establishing data democracies.
Call: 03 5327 9266
Email: p.dahlhaus@federation.edu.au
Professional qualifications
Doctor of Philosophy (PhD Flinders 2010)
Thesis: Salinity risk in the Corangamite region, Australia
Master of Applied Science (M App Sci RMIT 1988)
Thesis: Engineering Geological Mapping for the Urban Development of Melton, Vic
Bachelor of Applied Science (Applied Geology) (B App Sci RMIT 1981)
Professional memberships
Australian Geomechanics Society (since 1982)
Geological Society of Australia (since 1984)
International Association for Engineering Geology and the Environment (since 1982)
International Association of Hydrogeologists (since 1991)
International Society of Rock Mechanics (since 1982)
International Society of Soil Mechanics and Geotechnical Engineers (since 1982)
Soil Science Australia. (since 2000)
Professional commitments
Associate Editor, Hydrogeology Journal (2015 - 2019)
Chair, Independent Technical Review Panel, Southern Rural Water, for the Barwon Downs borefield project (2018 - 2020)
Chair, Technical Assessment Group, Bendigo Groundwater Project (2016 - 2019)
Open Geospatial Consortium:

Second Environmental Linked Features Interoperability Experiment (SELFIE) (since 2018)
Hydrology Domain Working Group - Groundwater Interoperability Experiment (2012 -2016) & Groundwater Standards Working Group (since 2016)
Agricultural Domain Working Group - Soil Interoperability Experiment (2014 - 2016)

Corangamite Catchment Management Authority:

Community Advisory Group (2013 - 2019)
Land Health Program Steering Committee (2013 - 2018)
Salinity and Soils Operational Portfolio Group (2004 - 2012)
Research and Development Steering Committee (2005 - 2012)
Sustainable Agriculture and Land Management Implementation Committee (1992 - 2004)

CSIRO Land & Water - Research Affiliate (2004 - 2008)
Geomorphology Reference Group of Victoria (1997 - 2010)
Glenelg Hopkins Catchment Management Authority

Strategic Natural Resource Management Reference Group (2006 - 2008)
Salinity Technical Committee (2003 - 2005)

City of Ballarat Scientific Reference Panel on water and climate change (2007 - 2008)
Southern Rural Water Stakeholder Reference Group (2011 - 2012)
Office of Living Victoria: Living Ballarat Project - Technical Panel (2013 - 2014)
Professional experience
Federation University, Mt. Helen, Victoria (previously University of Ballarat / Ballarat University College / Ballarat College of Advanced Education)
Principal Research fellow (since 2016)
Senior Research Fellow (2012-2016)
Senior Lecturer (0.6) (1999-2011)
Lecturer/Senior Lecturer (1988-1999)
Dahlhaus Environmental Geology Pty Ltd, Buninyong, Victoria
Independent consultant (1999-2012)
Melbourne and Metropolitan Board of Works, Mt Waverley, Victoria
Engineering Geologist (1988)
Geological Survey of Victoria, Melbourne, Victoria
Engineering Geologist (1982-1988)
Beton Son, Son en Breugel, The Netherlands
Technisearch Limited, Collingwood, Victoria
Geologist (1980, 1982)
Technical Officer (1977-1979)
Principal supervisor
Associate supervisor
Mahinda Jayasooriya (PhD Candidate, Federation University) - Improving the accuracy of groundwater infiltration (GWI) estimates in sewer networks
Ben Buurman (PhD Student, Federation University) - Signal propagation characteristics in under- and above-ground sensor communications in precision agriculture
Completed supervisions
David Ebbs PhD (2019). Harvesting stormwater: testing the paradigm by assessing the impacts with an inter-disciplinary case study. Federation University.
Maged Almandalawi PhD (2017). Study on complex rock slope stability in large scale open cut mine: Mechanism and evaluation. Federation Univeristy.
Nathan Robinson PhD (2016). Assessing productive soil - landscapes in Victoria using digital soil mapping. Federation University.
Adam Marshall MAppSc (2016). Precipitation and evaporative aspects of the terrestrial water balance in Central Victoria and their relationship to large-scale climate drivers during the growing season. Federation University.
Tim Evans MSc(Hydrogeol) (2006). Geology and groundwater flow systems in the West Moorabool River catchment and their relation to river salinity. University of Technology Sydney.
Mark Paine PhD (2004). Distribution, character and provenance of Late Miocene to Pliocene stranded coastal sediments in southwestern Victoria. Curtin University of Technology.
Jon Fawcett PhD (2004). Processes and implications of scald formation on the Eastern Dundas Tableland: A case study. The University of Melbourne.
Grant Huggins MEngSc (2000). Electro-kinetic treatment of a quartz-illite gold tailing. University of Ballarat.
Tony Miner MAppSc (1999). An investigation of a landslide in Gellibrand Marl in the Heytesbury region, Victoria. University of Ballarat.
Erica Nathan MAppSc (1998). Dundas landscapes and dryland salinity. University of Ballarat.