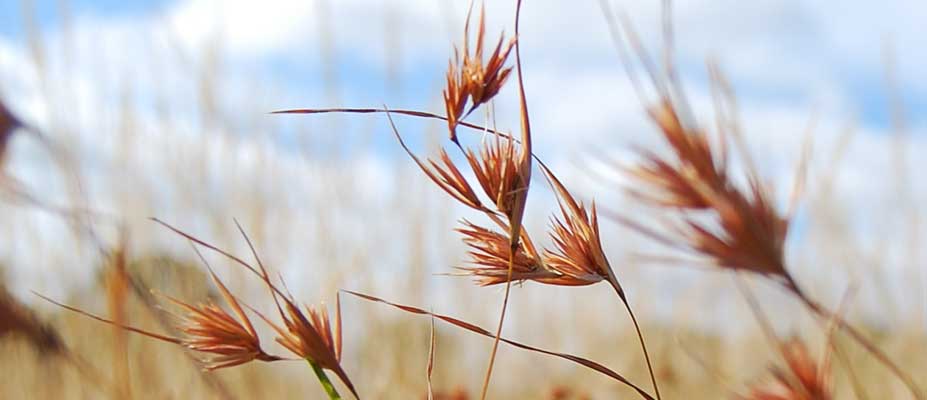 Kangaroo Grass, as a crop and to heal Country
The Dja Dja Wurrung Clans Aboriginal Corporation trading as DJAARA is successfully leading the agricultural project, Djandak Dja Kunditja (Country Healing its Home) using the highly regarded Kangaroo Grass (Themeda triandra), grown as a modern perennial broadacre cropping system.
Background
DJAARA's business enterprise arm, Djandak, provides a vision for a sustainable future through its leadership of the project. The project will enable the establishment and revival of growing seed for landscape regeneration and as a modernised food crop from its traditional origins over thousands of years.
The Djandak Dja Kunditja project will grow a large-scale agricultural crop, a crop that is a perennial and suitable to grow across Dja Dja Wurrung Country, especially in our drying climate. The project will enable Dja Dja Wurrung People to combine their Cultural Knowledge with modern agricultural technology to build an exciting Traditional Owner led and owned agricultural business

said Djandak Operations Manager, Trent Gibson.
Djandak formed the project Consortium with collaborations across research with La Trobe University (Bundoora), Federation University, Department of Environment Land Water and Planning, Agriculture Victoria, Regional Development Victoria, Goulbourn Murray Water, and the North Central Catchment Management Authority.
Operations Manager, Trent Gibson is responsible for this Smart Farms project with Djandak, backed by the Federal Department of Agriculture, Water and Environment. It will receive $1.8 million to support the establishment, research, demonstration, and agronomy package for perennial broad acre cropping systems based on native Kangaroo Grass.
This is a three-year project due for completion mid-2023.
Outcomes
Substantial data collection will occur alongside the research experimentation and testing of Kangaroo Grass seed production by La Trobe University. Accurate and timely data capture is a key deliverable of the project to inform best practice, innovation, communication, and outreach.
Dr Megan Wong will manage CeRDI's involvement in the project. CeRDI will work closely with the Djandak appointed PhD candidate and agronomy and ecology researchers at La Trobe University to provide guidance and assistance around information management solutions. The solutions will support trusted data storage and appropriate, fit-for-purpose, access and reuse of Kangaroo Grass data that supports Dja Dja Wurrung's priorities in the agricultural sector.
Innovation
By investigating how an information management solution for Kangaroo Grass data can support both CARE and FAIR principles, this research is significant. It will practically demonstrate how the principles can, when used together, support Indigenous peoples in exercising their rights and interests in research information. The FAIR principles support the approach for making data more finable, accessible (as appropriate), interoperable (able to be integrated with other data, applications and workflows) and reusable. The CARE principles for Indigenous Data Governance were developed to complement the existing FAIR principles to encourage the open and other data movements to consider people and purpose in their advocacy and pursuits (Russo Carrol et al., 2018).
RESEARCH OUTPUT

Russo Carrol, S., Hudson, M., Chapman, J., Figueroa-Rodríguez, O.L., Holbrook, J., Lovett, R., Materechera, S., Parsons, M., Raseroka, K., Rodriguez-Lonebear, D., Rowe, R., Sara, R., Walker, J., (2018). CARE Principles for Indigenous Data Governance, in: Indigenous Data Sovereignty Principles for the Governance of Indigenous Data Workshop. Gaborone, Botswana.
NEWS

The Dja Dja Wurrung Clans Aboriginal Corporation trading as DJAARA is successfully leading this agricultural project.... Continue reading...