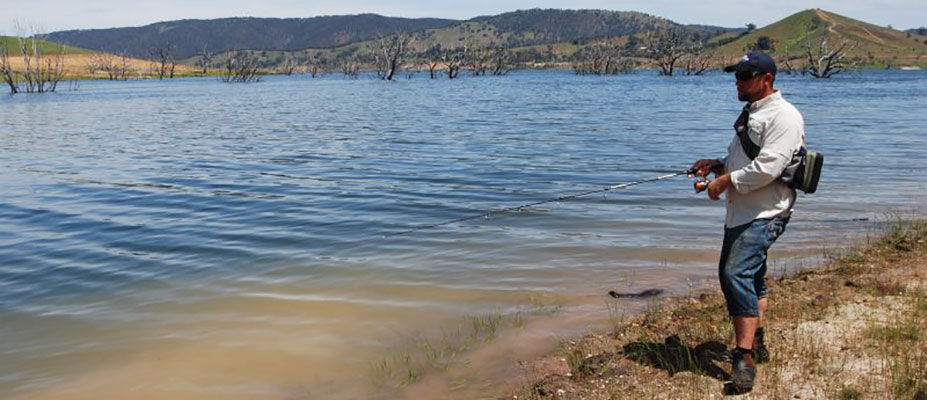 Native Fish Report Card
Native fish are valued by Victorians. The Native Fish Report Card Program is the first time that scientific fish population surveys have been used to produce publicly-available report cards on important recreational and non-recreational native freshwater fish in Victoria.
Background
The Native Fish Report Card Program is a partnership between the Department of Environment, Land, Water and Planning (DELWP)

, the Victorian Fisheries Authority (VFA)

and Recreational Fishing License Holders (through Recreational Fishing License Trust Recreational Fishing Grants Program

). The Native Fish Report Card Program will run over three years to regularly inform anglers and communities of the results of scientific fish surveys.
The program began monitoring targeted recreational and threatened non-recreational species at 10 priority rivers in 2017. These priority rivers were selected in collaboration with catchment management authorities (CMAs), scientists and expert recreational fishers.
The Native Fish Report Card Portal provides information to the public and recreational fishers on the health of key native recreational fish across Victoria's Catchment Management Authority (CMA) priority rivers. The project has several objectives:
Assess and evaluate the status of native fish species in selected priority rivers in each CMA region (initially recreational species)
Produce native fish report cards to communicate and share the status of priority species with local communities and fishers, promote recreational fishing participation and inform fishing choices
Contribute to fisheries management (regarding whether it is sustainably managed, responsive management, evaluation of stocking, etc.)
Technical Features
The Native Fish Report Card Mapping Portal

allows users to navigate to chosen waterways amongst the ten priority rivers and from there to view species present in that waterway, to view key health indicators for the species and monitoring results. Waterway report cards include high quality illustrations of each species, with key metrics clearly presented.
Approach
The Native Fish Report Card website currently provides users with an overview of the monitoring data from scientific fish surveys conducted over 10 priority rivers across Victoria in 2017. The Report Cards are a brief overview of the health of the targeted species. Cards provide data on:
The number of fish that were caught
The number of fish per 1km of waterway
The length and weight of the largest fish caught
The number of legal size fish caught (if a recreational species that can be taken)
The percentage of the catch that is legal size (if a recreational species that can be taken)
These results are summarised with three Key Health Indicators:
Recent recruitment - were small fish (presumed less than 1 year old) present, indicating fish are breeding (or being stocked)?
Multiple size classes - were there fish from a variety of sizes, (one indicator of healthy populations)?
Mature fish present - were mature fish, capable of reproduction, caught?
Monitoring will be conducted again during 2018 and 2019, and the data added to the portal as it becomes available.

Future Directions
Monitoring of native fish across the 10 priority waterways will be conducted over three years, with more surveying taking place in 2018 and 2019. These will be summarised and added to the portal in the individual waterway and species report cards.
NEWS

The Native Fish Report Card Program was officially launched by Minister for Water, Lisa Neville and Minister for Agriculture, Jaala Pulford.... Continue reading...