CeRDI featured in premier spatial industry publication
14 July 2016
An article profiling CeRDI's spatial research has been published in the latest issue of Position, the only independent publication for surveying, mapping and geo-information in Australia and New Zealand.
CeRDI's application of the latest innovations in spatial technology to solve complex projects for industry is highlighted in the article, as well as their flagship projects which have contributed to industry change, raised public interest and led to ongoing industry funding. It also highlights the success of the Corangamite Soil Health Knowledge Base project that was recently awarded the Asia Pacific Spatial Excellence Award (APSEA) in the Environment and Sustainability category.
The importance of establishing strong and enduring research partnerships, a hallmark of CeRDI's successful relationships with industry partners and stakeholders, is also referred to in the article which can be accessed here.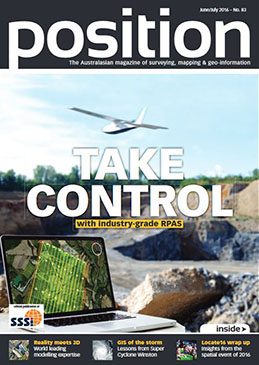 Additional information about the CeRDI-led projects featured in the article is available from the following websites:
For further information contact Assoc Prof Helen Thompson.