South West Climate Change Portal launch
A new website, the South West Climate Change Portal, has been launched this week and offers a host of information and resources - including planning tools, maps and visualisations - to enable planning for the impacts of climate change in the south west region of Victoria.
The portal has been designed specifically for natural resource managers, local planners, land managers and other core organisations in the region who are working closely with local communities to respond to the current and future threats posed by climate change.
The project is the culmination of an extensive body of work by the project partners including the local government authorities in south-west Victoria, the Corangamite and Glenelg-Hopkins Catchment Management Authorities (CMAs) and the Centre for eResearch and Digital Innovation (CeRDI) at Federation University.
Core information and data available on the website examines the predicted impacts of climate change. The portal also provides links to current government policies pertaining to climate change and provides tools to enable regional climate change planning and management. Various implementation approaches are also available at the site.
The maps and visualisations available on the portal are expected to provide an important source of information to guide community discussion around future planning. Dr Birgita Hansen, Research Fellow at CeRDI's and lead on this project, together with CeRDI's Andrew MacLeod and Craig Briody, describes the portal as a unique resource for the region: The spatial maps and visualisations provide a valuable resource to assist with local decision making. It enables comparison of climate change scenarios. The regional maps also identify vulnerability and impact layers that can be used by communities and regional planners with planning for mitigating the threats of climate change.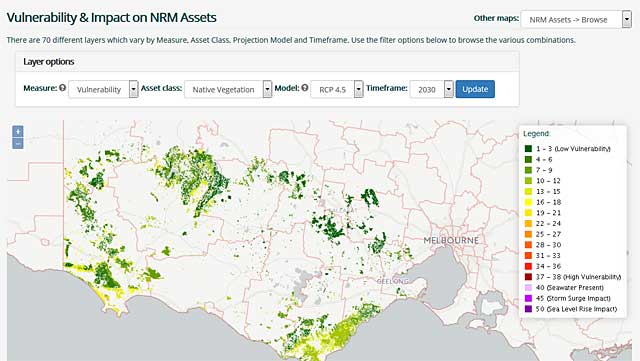 Updating of content for the portal is expected in the future. There is also an opportunity to expand the portal to other geographical regions where the impacts of climate change on the environment, on local communities and the economy are expected to be high. Future CeRDI research will examine how access to the South West Climate Change portal guides decision making and changes stakeholder and community practice.
For further information about this project contact Dr Birgita Hansen.