Elissa Ashton-Smith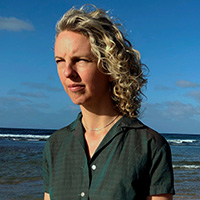 PhD Candidate
Elissa commenced her PhD with CeRDI in February 2019. Prior to this, she was working in the Natural Resource Management sector as a Landcare Facilitator. Elissa's PhD will explore the impacts on coastal communities and ecosystems from increased urbanisation, population change and seasonal variation. The research will build upon work that CeRDI completed for Barwon Coast investigating the attitudes, knowledge, and behaviours of the general community in relation to coastal management and beach use around Barwon Heads and Ocean Grove.
Elissa's PhD research is aimed at generating deeper insights into perceptions of nature and the values and worldviews that influence the way people interact with the natural coastal environment.
For her Honours thesis, Elissa focussed on popular concepts of nature through a poststructuralist analysis of David Attenborough's Private Life of Plants series.
Originally from Melbourne, Elissa moved to the Bellarine Peninsula in the early 2000s to the 'Sea Change' town of Barwon Heads and developed an interest in coastal and marine management, and community activism.
Elissa is supervised by Dr Jessica Reeves (School of Science, Psychology and Sport), Associate Professor Fred Cahir (School of Arts) and Dr Birgita Hansen (CeRDI)
Email: elissaashtonsmith@students.federation.edu.au
ORCID: orcid.org/0000-0002-4992-8569

---
In order to address the rate and severity of deterioration in ecosystem health and biodiversity, transformative change is needed across economic, social, political and technological domains.