Web-based GIS and Spatial Mapping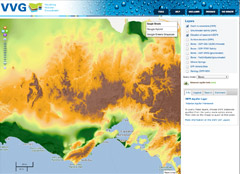 Geographical information systems (GIS) can inform 'big picture' understanding and enhance regional decision making processes, create greater efficiencies in communication, increase the quality of information and support policy formulation and evaluation.
The breadth and diversity of CeRDI's work in web based GIS technology and spatial mapping is gaining national and international recognition.
This is showcased by two major projects currently underway in the Centre. The first is Visualising Victoria's Groundwater, an important natural resource management project in which CeRDI is the lead organisation in partnership with the Queensland University of Technology, Natural Resources Canada, the CSIRO and the Department of Sustainability and Environment. The project utilises new ICT and high speed broadband capabilities to capture, aggregate and spatially depict Victoria's groundwater systems for public access and sustainable development and management. Until the commencement of this project information about Victoria's groundwater was difficult to locate but through this project data can now be explored via one accessible and comprehensive web-portal. The project demonstrates how big data initiatives that combine interoperable approaches and spatial presentations can effectively facilitate information sharing, ensuring relevance and uptake across multiple stakeholders. Read more about VVG
Another large project CeRDI is collaborating on is the Sport and Recreation Spatial project. The project represents an important partnership between the CeRDI and the School of Health Sciences at Federation University Australia, together with partners the Australian Sports Commission, Victoria University and VicHealth. The project involves the development of an innovative spatial ICT system of national data from the sports and recreation industry. It enables the mapping and statistical manipulation of large data sets to facilitate a greater understanding of sport and recreational participation in Australia. It is anticipated that the spatial ICT system will facilitate new research initiatives around the health and wellbeing benefits of sport participation at a community, state and national level.
Memberships, Affiliations and Partnerships
Open Geospatial Consortium (OGC) - affiliate
The international standards body for spatial data. CeRDI is an affiliate member and a sitting member on the GroundwaterML interoperability experiment (GWIE2) working group.
Spatial Industry Business Association (SIBA) - member
The Spatial Industries Business Association (SIBA) represents more than 200 companies and organisations working in the private enterprise sector of Australia's and New Zealand's growing and vitally important spatial industry.
Spatial and GIS Projects:
Spatial Research and consultancy
Related Links