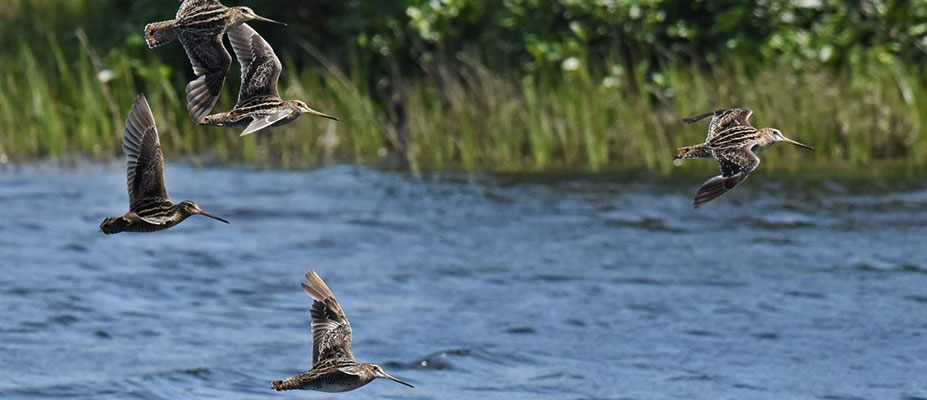 Tracking the Migration of Latham's Snipe
The Latham's Snipe project was initiated to better understand the ecology and habitat use of Latham's snipe (Gallinago hardwickii), a shorebird species that breeds in Japan and migrates to Australia for the austral spring-summer. Using light-level geolocators deployed on snipe in Port Fairy, south-west Victoria, the first ever full migration track for the species has been obtained. The Latham's Snipe Project is supported by CeRDI, the Australia Japan Foundation and the Woodland and Wetlands Trust.

Background
The research to track the migration patterns of the Latham's snipe (Gallinago hardwickii) is being coordinated by Dr Birgita Hansen, a research fellow at CeRDI. The Latham's snipe project is a collaboration between researchers, ornithologists and community groups. The team works collaboratively with colleagues from the Wild Bird Society of Japan (WBSJ). Close connections with Japan have been forged through this project, and there has been exchange of researchers between Australia and Hokkaido, Japan, to conduct snipe research and teach school students about shorebird conservation.
The Latham's snipe project was initiated in the wake of a Victorian Civil and Administrative Tribunal case in 2014, regarding a housing development proposal on an important Latham's Snipe wetland (Powling Street wetlands) in Port Fairy, south-west Victoria. During the case, proponents claimed that the housing development would not impact the snipe population because the birds would move to another site. However, there was no evidence to support this claim.
In September 2014, a series of counts was conducted around the Port Fairy and Warrnambool region to determine the relative importance of urban wetlands like the Powling Street wetlands. These counts revealed that over 95% of the population occurred in urban wetlands during the day. On the basis of this discovery, the count program was extended to the following year to determine if these patterns of wetland use were consistent between years.
With the continuation of the count program, the project expanded to include a capture and tagging program aimed at investigating migration and movements. To this end, data loggers called light-level geolocators, were deployed on birds during spring 2015. Recapture of birds is required to retrieve the light data from the logger and reconstruct the migration route. This has been a focus of capture work since 2015.
More recently, the project has expanded further to include an investigation into the ecology of the population in Canberra, and to investigate the characteristics of wetland habitats used by snipe south-west Victoria. .
Outcomes
The Latham's Snipe project has had a number of findings:
Counts in the south-west region have revealed that the majority of snipe rely on urban wetlands for resting during the day;
Snipe migration may occur in large non-stop flights with extended stopovers for refuelling in northern NSW and Queensland;
The characteristics of wetlands used by snipe during the day differ substantially to those of wetlands used during the night, when birds forage;
Snipe are flying only minimal distances to night-time feeding sites, and most return to the same roosting site each day; and
Some snipe appear to be highly site faithful, whilst others may transit through an area on their way to other non-breeding areas in southern Australia.
The geolocator studies have been successful in recapturing a single bird (T0), which was originally caught in October 2015 and recaptured 12 months later at almost exactly the same spot. The device from T0 yielded a full year of light data, which was analysed to determine the latitude and longitude of the bird over that period.
Data showed that T0 stopped over in south-east Queensland and Cape York (or somewhere in that region) in autumn before flying direct to Hokkaido in early May. The bird remained on the breeding grounds somewhere in southern Hokkaido over May–June. In late August it flew direct from Hokkaido back to south-east Queensland in three days. This distance is approximately 7000km, meaning that may represent one of the fastest bird flights on record at over 90km/h.
The Latham's Snipe project has gathered a large body of dedicated counters and volunteers. As the project continues to acquire new knowledge about the species, the number of people participating in counts and catches continues to grow. There is now an extended network of volunteers across eastern Australia who contribute to the monitoring of snipe.
The project has also been very successful in engaging local communities including school children in the Canberra Young Rangers program. This is an important outcome of the project – the increase engagement with the public to highlight the importance of wetland habitat protection for snipe conservation.
Innovation
The Latham's Snipe project takes an unusual and innovative approach to investigating the migration and habitat use of this species. By building a collaboration with community groups from the outset, the project has established a research and monitoring program that combines traditional scientific approaches with community-based monitoring to answer questions about the species ecology and conservation. This is a rare example of a successful co-designed project.
Approach
The Latham's Snipe project has used a number of strategies to address its objectives. The most critical of these has been to establish the project as a partnership between academic research and community groups. This has been achieved through a co-design approach that draws upon years of knowledge and expertise gained by community members which is combined with traditional scientific research.
Three complementary methods have been used to investigate the ecology and migration of Latham's Snipe:
A survey program focused on a range of sites across the species' non-breeding range in eastern Australia;
Capture-based studies to learn about the demographics of the population in Port Fairy, and to deploy geolocators (to investigate migration) and radio transmitters (to investigate local movements of snipe between wetlands); and
Habitat assessments to determine characteristics of wetlands favoured by snipe.
Information from counts conducted by the South Beach Wetlands and Landcare Group formed the basis for designing a survey program that focused on a range of sites where snipe were present and absent. The group's observations over time were critical to determining how to design a capture-based program aimed to deploying geolocators, which require re-capture of the bird and hence, knowledge of the bird's likely behaviour from year-to-year.
In addition to Australian studies, the Latham's Snipe project team visited Hokkaido, Japan in July 2016, to assist with the Wild Bird Society of Japan with their snipe research. This was critical to strengthening ties between the 2 countries and provided the Australian team with many insights and new information about snipe in Japan.
The Latham's Snipe project has combined a variety of research and monitoring approaches, including observation, survey, geolocator studies, radio tracking and satellite tracking, to substantially increase our knowledge of the species.
Future Directions
The Latham's Snipe project will continue to expand its research in Canberra, to build additional information about the ecology of the species from a non-coastal location.
The radio tracking pilot program that commenced in 2016 will continue in 2017-2018 to obtain more rigorous information on movement and home range size. Geolocator retrieval will be again attempted during spring 2017. Options for deploying geolocators and radio transmitters at other sites will be explored.
The Latham's Snipe project team hopes to visit Hokkaido again in 2018, to participate in a census of the breeding grounds with the Wild Bird Society of Japan. A funding application is currently being considered to support this visit and if successful, will also support the project to expand its education, outreach and community engagement program in Canberra and Japan.
RESEARCH OUTPUT

Wilson, D., Hansen, B., Honan, J. Chamberlain, R. (2017). 170 years of Latham's Snipe Gallinago hardwickii arrivals in New South Wales and the Australian Capital Territory show no change in arrival date. Australian Field Ornithology 34, 76-79.

Hansen, B. (2016). Latham's Snipe tracking project — news brief. Wader Quest Newsletter 3, 17.

Hansen, B., Honan, J., Wilson, D., Chamberlain, R., Stewart, D., Gould, L. (2016). Konnichiwa Ojishigi: following Latham's Snipe from Japan to Australia. Tattler 41, 13-14.

Hansen, B. (2016). Latham's Snipe use of urban versus non-urban wetland habitat in Victoria. Tattler 38, 15.

Hansen, B. (2015). Latham's Snipe count results. Geelong Naturalist 51(8), 9.

Hansen, B., Wilson, D., Koyama, K. (2015). Australian researchers to study Latham's snipe migration. Bird Research Water Bird News. Oct. 2015. Japan Bird Research Association.

Hansen, B., Veltheim, I. (2015). Wetlands, brolgas and Latham's snipe: south-west Victoria's great natural assets. Pp. 57-58 In: Wetlands Australia, National Wetlands Update February 2015 — Issue No 26, Commonwealth of Australia 2015.

Hansen, B., Honan, J., Stewart, D. (2015). What is the relative importance of urban wetlands for Latham's Snipe in south-west Victoria? Australasian Ornithological Conference 2015, Adelaide.

Hansen, B. (2015). Latham's Snipe and urban wetlands in the Port Fairy Region. VWSG Bulletin 38, 73-74.