Customised Web Solutions
CeRDI understands that many web-based solutions can be purchased 'out of the box' but what businesses, organisations and communities often need is solutions which respond to their specific priorities and needs.
The suite of products and technologies developed by CeRDI are modular and easily customised, allowing a tailored solution to be developed quickly and cost effectively. CeRDI also understands that while some organisations have a clear idea of the solution they are seeking, others will require more support and assistance in identifying where opportunities exist for the application of new technologies.
Methodology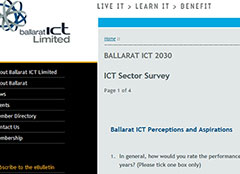 One of the benefits of working with CeRDI is we take the time to understand the inner workings of your organisation, its goals and priorities. Once we have this understanding we can demonstrate how other clients have applied web based technologies to solve similar problems. We can also identify what new technologies could be sourced or developed. Together, a solution can be mapped out to best meet an organisation's specific requirements.
In areas where a resolution is not clear, CeRDI will undertake research and report back on the possible alternatives. Often, this research is part of the project scoping, but on occasions, this may be undertaken as part of a feasibility study or technology plan. By supporting organisations in planning their technology adoption we assist in ensuring projects do not false-start through the choice of an inappropriate technology path.
Our approaches support frequent communication, promote shared understanding, foster joint problem solving and result in solutions which are the best-fit for the client.
Example
Tourism Accreditation Board of Victoria - Better Business Program
The Get Accredited online program was developed for the Better Business Program. It contains all the necessary tools and resources to help a business prepare an application for accreditation, including learning activities, dynamic online forms, templates and samples. The system guides the user through all the necessary steps and makes the process of getting accredited much more user-friendly.
Advanced administration and reporting capabilities allow Service Skills Victoria to maintain and expand the system and assist users though the accreditation process.
Click on the above thumbnails to view larger versions.