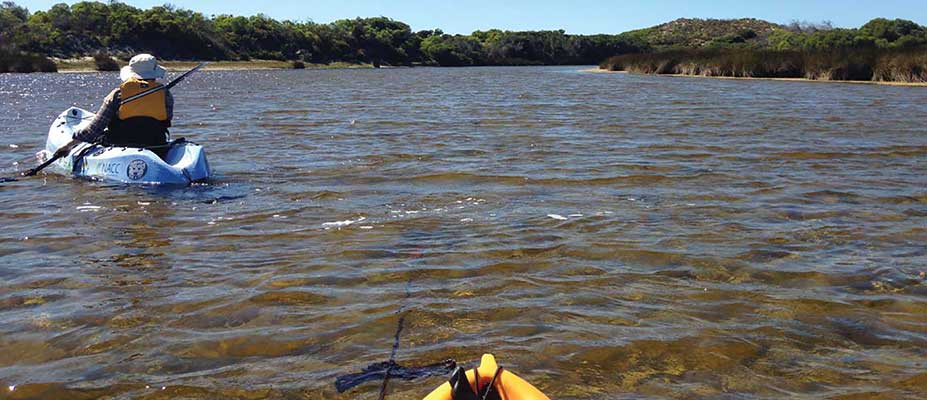 Western Australia Healthy Estuaries Portal
CeRDI developed the Healthy Estuaries portal for Northern Agricultural Catchments Council (NACC) in Western Australia based on the EstuaryWatch Victoria site.

Background
Launched in early March, the Healthy Estuaries portal offers access to community monitoring information for Hill and Moore river estuaries, as well as additional complementary information on several other sites. The portal has been designed to enhance the user experience offering information that is easily accessible, practical and informative. A key feature is the enabling of data sharing from citizen scientists involved in estuary monitoring events.
CeRDI technical staff members Paul Feely, Sudeera Abeywickrema, Heath Gillett, and researcher Dr Birgita Hansen designed and developed the portal following extensive consultation and discussion with staff at Northern Agricultural Catchments Council. Victorian EstuaryWatch staff provided advice on user- experience in the development of the new portal.
NACC has over 500 voting members and delivers a range of programs and activities in collaboration with community groups, business and industry. NACC is one of Australia's 56 regional natural resource management bodies working to accomplish nation-wide management, restoration and protection of Australia's natural environment by addressing national environmental priorities at the regional level.
Innovation
The Portal includes the following innovations:
Engaging and informative visualisations involving charts, data tables and maps providing new ways of viewing up to 20 years of data;
Complex statistical analysis interpreted into plain language and highlighted by severity serves to both highlight possible data entry errors, and alert monitors to extraordinary conditions occurring at their location;
Comprehensive map portal provides a wealth of information on topics related to estuaries and/or waterways; including flora and fauna, climate, terrain, sea, ocean and administration boundaries; and
An intuitive interface designed for both beginners and experts alike allows users new to citizen science explore the data and learn more about their environment
Technical Features
Leveraging unique technical features from the EstuaryWatch data portal the Western Austalia Healthy Estuaries Portal provides the following:
Browse or search for estuaries;
Estuary summary page combining background data, estuary events, estuary map, monitoring sites and estuary snapshots;
Estuary snapshots generate a "salt wedge" chart displaying the salinity at different depths along the length of the estuary;
Photos taken from recurring locations which demonstrate the estuary conditions at different points in time;
Flexible data export options for estuary and site level data; and.
Site details show complete observation history, with quantitative data and charts available for physico- chemical data, and qualitative data and photo records available for mouth condition data.
Map portal:
Library of map layers relating to Western Australia's water network, including Waterways, Estuaries, Wetlands, Sea and Ocean, Groundwater, Administration boundaries, and Flora and Fauna
EstuaryWatch Galleries:
Photo galleries provide easy access to site visit photos, with automatically compressed images preventing unnecessarily large downloads for user submitted data.
Approach
CeRDI were approached by NACC representatives who were seeking an Estuary monitoring portal based closely on the very successful Estuary Watch Victoria portal development. With support from EstuaryWatch Victoria, CeRDI extended the existing platform to support both the different geographic imagery required for Western Australia and the different organisational data types and approval requirements.
In November 2017 an early prototype was demonstrated on site in Guilderton WA with NACC representatives and Moore River estuary volunteers, workshopping further improvements to the system.
The final site was subsequently released in March 2018.
Future Directions
The West Australian Department of Water will continue to support estuary monitoring through the Healthy Estuaries Portal and are currently considering integrating portal management into the Department's portfolio of projects.