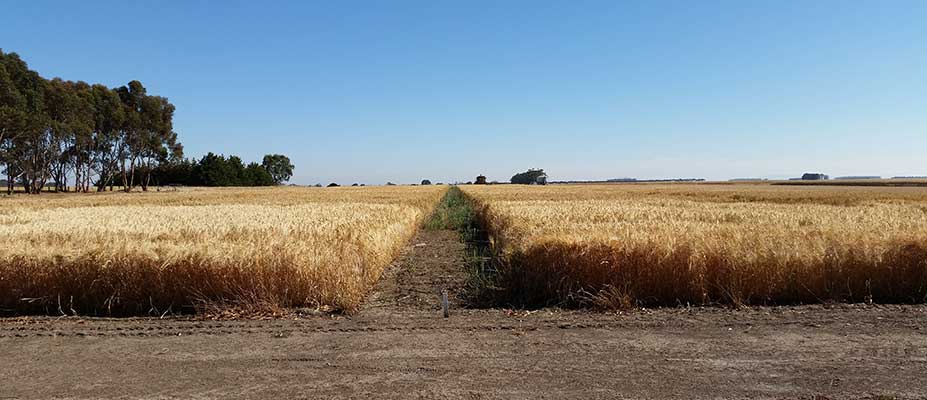 Southern Farming Systems Soil Probe network
The Southern Farming Systems (SFS) soil probe network portal (ProbeTrax) has been established to monitor and assess soil temperature and moisture conditions from 62 soil probes which have been installed across the major soil types of the high rainfall zones of Victoria and Tasmania. CeRDI has developed a web platform that displays the current and historical soil moisture and temperature values across the probe network and enables this information to be provided in a way which is decision useful for farmers.

Background
SFS have a 20 year history of delivering programs to farmers and advisors across southern Victoria and Tasmania. Recently SFS have teamed with the Corangamite Catchment Management Authority (CCMA) to deliver projects and services through Landcare networks in the region.
SFS have been responsible for the successful completion of the two large projects that established a soil moisture probe network and initiated a fee-for-service arrangement with farmers to ensure the probe network is maintained.
Although the soil moisture probe network was capable of generating significant data, it was recognised that the adoption would be limited unless SFS could deliver soil moisture and temperature information in a user friendly and decision useful format for farmers.
The probes have been recording soil moisture and temperature in 10 cm depth increments down to a meter below the soil surface, every 15 minutes over the last two to three years.
CeRDI has worked with SFS and with farmers and their advisors to understand their information needs and to present probe data in a way that is decision useful. This allows farmers to monitor their local soils and make informed decisions such as regarding the risk of nitrogen losses at any proposed nitrogen application date.
The project involved four key phases:
Development of a user friendly decision support interface for web, mobile phone and tablets with push notification;
Development and delivery of workshops to farmers, advisors and Landcare groups;
Development of a 'how to guide' for the wider public outlining information about accessing data and decision support resources and facilitate discussion; and
Evaluation to understand the impact of the project and to enable further improvements.
Outcomes
This project is enabling farmers and advisors to make more informed decisions about farming practices based on access to soil moisture and temperature information.
An existing network of 60 probes located throughout southern Victoria and Tasmania is disseminating real-time information about soil conditions, enabling critical decisions to be made about crop and pasture growth. Through this, the project is facilitating access to the decision support interface and tools that assist farmers in monitoring soil moisture conditions, interpreting results, setting alerts and taking action.
A video explaining the SFS ProbeTrax program is available at: www.youtube.com/watch?v=qLCiSscIzXw
Innovation
The ProbeTrax portal is the first Australian web-based interactive interface to show real-time and historical soil moisture and temperature information. The portal also provides the ability for users to set and manage their own push notification alerts (text message and/or email delivery) based on user defined options for probe location, sensor parameter, alert frequency, alert delivery method and soil parameter thresholds. An administration interface was also developed to allow SFS to monitor the probe network status and manage subscriber accounts and access.
Technical Features
ProbeTrax uses PHP, and Javascript with ZingChart charting library to create an interface allowing users to explore the moisture and temperature profile of their soil with rainfall where available.
The ProbeTrax application periodically collects data from the ADCON host system using PHP and XML and stores in a PostgreSQL/PostGIS database for consumption by the interface.
The SMS component of the alerts system makes use of Telstra's public SMS API for delivery of user defined notifications.
Approach
CeRDI worked with SFS to create interactive online maps, graphs and reports that would allow farmers and agronomists to use data from soil probes on their properties to assist with decision making. Additionally, a user management / access control system was developed to support a multi-tiered subscription model to ensure the project costs are sustainable going forward.
Future Directions
There is significant potential for learnings from the SFS Soil Probe Network project to be extended through future research and technology developments and workshops directed towards other Internet of Things (IoT) technologies such as weather station or drone data. There may also be potential for learnings to inform practices in areas other than farming, with interest already received from state-wide authorities and organisations which monitor soil moisture data to assist in predicting potential fire risk or nutrient runoff into waterways and storages.
PARTNERS