Clever Books: Single Source Publishing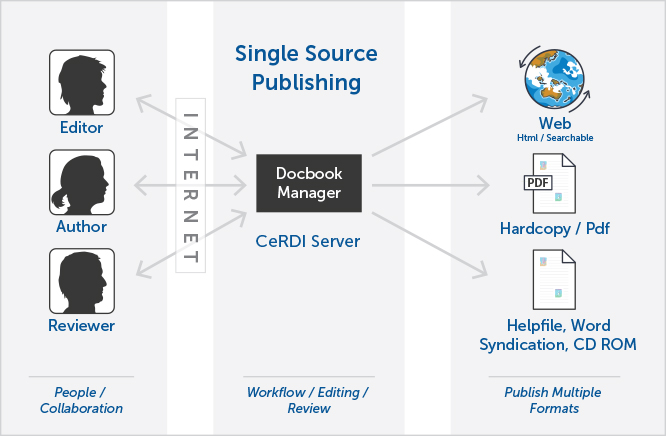 If watching a vast and elderly text document (housing thousands of edits) disintegrate before your eyes plumbs an all too familiar pit in your stomach, then simple and efficient Docbook Manager could bring tears of joy!
Editors, contributors and reviewers of large, structured, text-based documents can now desist from tearing out their hair. CeRDI has developed a system of single-source publishing with the option of multiple publishing modes… online, PDF or hard-copy as well as CD ROM, Windows help file and RDF for syndication.
Docbook Manager is particularly suited to publications of a collaborative nature. Multiple contributors can edit and update information with little or no training, simply by logging onto the web. Overseen by an Editor or Project Manager, changes can then be distributed for review.
Docbook online publications outstrip their hard-copy and HTML cousins by managing complex documents and increasing usability and functionality. Combining the benefits of printed publications (many features are automated, such as indexing, table of contents and glossary of terms) and the web (advanced search facilities and refined navigation) brings the best of both worlds to Docbook Manager.
Following a briefing, CeRDI will customise the Docbook Manager to the client's requirements, hosting the Docbook on one of their secure servers, and entering and stylising the initial document into the system. Docbooks may be set up for public access, or a subscription service can be implemented. CeRDI can also utilise web based surveys and Web 2.0 features such as Wikis and blogs. Aligned with Docbook Manager, these interactive technologies allow for user contributions, as well as easy feedback and analysis of the online document.
The following case studies demonstrate how three companies have employed Docbook Manager into their toolsets.

Case Study One: Rural Law Online

Case Study Two: Fitzroy Legal Services

Case Study Three: Legal Services Commission of South Australia

CeRDI anticipates a diverse future for Docbook Manager among government agencies and private enterprise alike. Major reports, policies, and strategic plans can all be better served through the Docbook system.