Single Source Publishing
Docbook Manager
The CeRDI single source publishing system is a highly flexible web-based application which revolutionises the traditional publishing process. It can be customised to meet the needs of any organisation that wishes to publish and maintain major reports, strategic plans, books and policies.
How It Works

Benefits
Supports organisations in totally rethinking the way they currently publish major reports, books and policies.
Publishes in multiple formats for the same source, for example, print, HTML, CDROM and syndication.
Disseminates information in more accessible ways.
Reduces challenges associated with creating and maintaining publications of a collaborative nature.
Supports professional presentation in all publication formats.
Automates time-consuming processes like indexing, table of contents, etc.
Distributes the workload whilst maintaining workflow and verification controls.
Very simple and intuitive user interface.
What is Docbook Manager?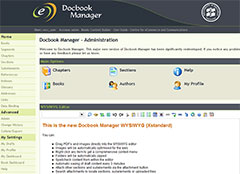 CeRDI Docbook Manager is a web-based application designed from a concept developed by the Centre for eResearch and Digital Innovation in collaboration with the Victorian Law Foundation (VLF). The original aim was to provide a web-based version of the Rural Law Handbook.

CeRDI Docbook Manager not only provides the ability for authors to contribute updates to a centralised management interface and for a book to be published to the web in a timely fashion. It also provides the facility for production of an up-to-date hard-copy edition at a chosen point in time.
A comprehensive workflow structure ensures content can be reviewed and published in a planned and orderly fashion. The web-based nature of the application allows authors and contributors from all over the world to collaborate on the same publication. The Docbook Manager is highly flexible but is best suited to publications that have a stringent structure. Structure in this case refers to a consistent layout of elements such as chapters, sections and subsections throughout the publication. This structured layout allows the application to produce a web-based version of the publication complete with table of contents, navigation and index, just as easily as it can produce a PDF. The way this is achieved is by storing the content and structure of the publication separately from its presentation.
Multimedia items like video and audio streams can be uploaded and provided to those web-users who have the connection capacity to take advantage of it. Other features such as related items, tables and index terms are all managed easily.

The most significant advantage of the Docbook Manager system lies in its simplicity. The administration area provides contributors with the ability to completely manage the information within the system. 'Content management' is performed using simple entry forms which feature What You See Is What You Get (WYSIWYG) editing wherever appropriate. This allows a contributor with only moderate computer skills to manage and enter information into the system.
Online Demonstration

View an online demonstration of the Docbook Manager from an Author/Editor perspective.
Enquiries
If you are interested in the CeRDI Docbook Manager for your organisation, please use our online enquiry form, specify your preferred contact method, and a CeRDI representative will contact you.