CeRDI attends Open Geospatial Consortiumís in NZ
CeRDI was well represented at the recent Open Geospatial Consortium's (OGC) 105th Technical and Planning Committee (TC/PC) meeting in New Zealand in early December. CeRDI's Principal Research Fellow, Assoc Prof Peter Dahlhaus, together with Bruce Simons and Andrew MacLeod attended the prestigious meeting of international delegates which also included two associated meetings: Geographic Information / Geomatics Technical Committee of the International Standards Organisation, and the Australia-New Zealand Forum. Two summits were also organised to create opportunities for open participation by New Zealand organisations as well as engagement between local and international experts around the key topics of environment and agriculture.
The Open Geospatial Consortium (OGC) is an international consortium of more than 525 companies, government agencies, research organizations, and universities participating in a consensus process to develop publicly available geospatial standards. Open Geospatial Consortium standards support interoperable solutions that 'geo-enable' the Web, wireless and location-based services, and mainstream IT. Open Geospatial Consortium standards empower technology developers to make geospatial information and services accessible and useful within any application that is required to be geospatially enabled.
As an OGC member, the CeRDI team attended a range of events, focusing predominantly on the development and use of international agricultural and environmental data exchange standards. During the Agriculture Domain Working Group meeting, Bruce described CeRDI's collaborative research with CSIRO and the Australian National Data Service (ANDS) in co-developing the Australian Soil Vocabulary Services. This program will contribute to the international efforts to create global standards for soil data exchange. Peter also presented examples of CeRDI's research at the Location Powers Summit which is aimed at encouraging data sharing and interoperability across digital agricultural data for improved decision support and farm profitability.
Membership of the OGC has been critical to CeRDI's success, internationally. CeRDI has rapidly developed a reputation for being one of the few non-government organisations to co-develop and implement OGC standards for interoperability, and of federating data from disparate sources for real-world applications.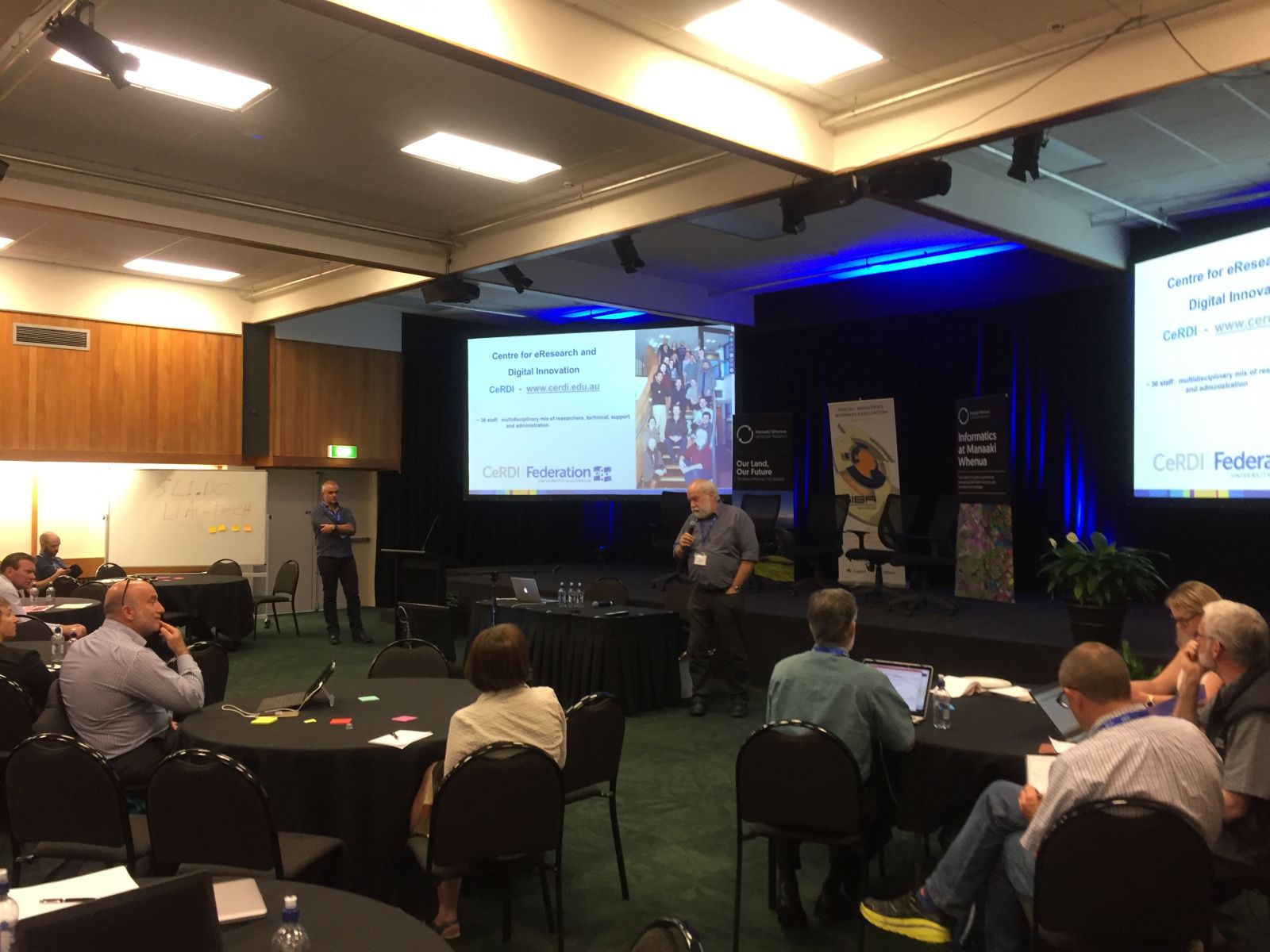 Above: Pete Dahlhaus presents during a session at the OCG meeting, December 2017.