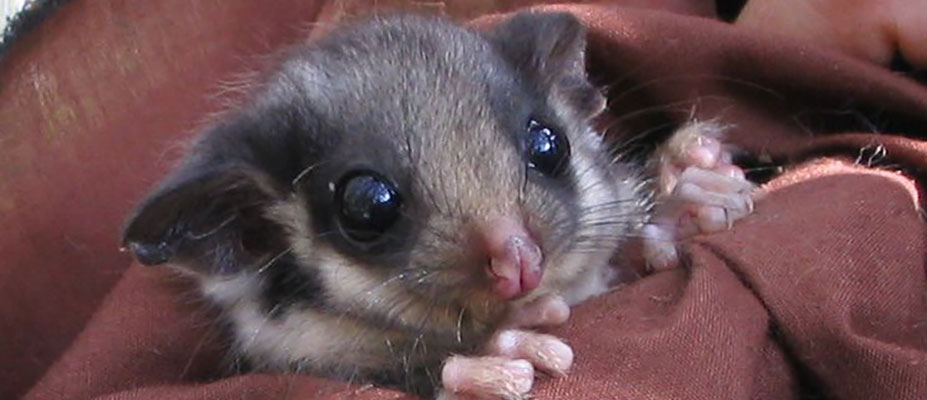 Leadbeater's Possum Interactive Map
In collaboration with staff at the Victorian Government Department of Environment, Land, Water and Planning (DELWP), CeRDI has developed a web-based interactive map for spatial information on the Leadbeater's Possum, Victoria's faunal emblem and a critically endangered species. The interactive map enables access to the most current information on population colonies, modelled areas of occupancy, population survey areas and forest management.

Background
he Leadbeater's Possum is Victoria's faunal emblem. It is found only in Victoria, inhabiting some forested regions in the central highlands as well as small regional pockets to the north and east of Melbourne. This species of possum is listed as Critically Endangered in Australia and Endangered in Victoria and, although new sightings of the possum have recently been recorded, Leadbeater's Possum colonies are still under threat from habitat modification. Efforts to halt the decline of the species have resulted in a range of State Government initiatives, including spatial mapping of possum colonies across Victoria. In collaboration with staff at DELWP, CeRDI has developed the web-based interactive map of the Leadbeater's Possum, thus enabling access to the most current, location-specific data of all known colonies.
The Leadbeater's Possum Interactive Map, which is accessible to the general public, provides a gateway to key information that has the potential to support species conservation activities and environmental management and planning for specific colonies across the state.
The data available provide location-specific details of all pre-existing (since 1998) and new possum colonies. The range of mapping options provides greater insights about the location of colonies in relation to important landmarks, infrastructure and the environmental landscape.
The Leadbeater's Possum Interactive Map consolidates and extends CeRDI's considerable expertise in using spatial technologies and developing interactive maps and associated tools for environmental planning and natural resource management.
The Victorian Commissioner for Environmental Sustainability, Dr Gillian Sparkes, commented that the new interactive map was an example of using digital platforms to encourage citizens to engage in science. "I would encourage those interested in protecting the precious Leadbeater's Possum to log-in and keep informed on how efforts to protect Leadbeater's Possum are progressing" Dr Sparkes said.
Outcomes
The release of the Interactive Map has improved access to the most current spatial information available on the Leadbeater's Possum in the central highlands region of Victoria. This has supported improved exchange of information and data on Leadbeater's Possum between the State Government, the Victorian community and other stakeholders.
Innovation
Working in partnership with DELWP, the use of a spatial web-GIS platform has enabled access to data and information collected and maintained by the State Government in an open and interactive online application.
Technical Features
The Leadbeater's Possum Interactive Map uses CeRDI's spatial information platform, data management and user interface technologies.
Approach
The Leadbeater's Possum Interactive Map was developed collaboratively with DELWP staff to establish the portal's design, features, available spatial layers and integration with DELWP's Leadbeater's Possum website. A data provisioning workflow was also established with DELWP to manage the updating of data available on the portal.