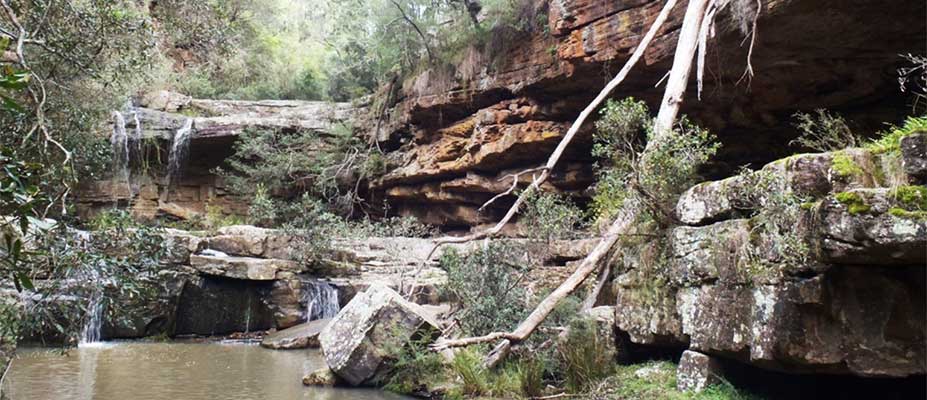 Gunaikurnai Online Information Hub
The Gunaikurnai Information Hub provides support for the joint management of parks and reserves of the Appointed Lands of the Gunaikurnai people, the Traditional Owners of Gippsland, with the Traditional Owners playing a central role in managing these lands into the future.

Background
In 2016 CeRDI entered into an arrangement to establish the Gunaikurnai Information Hub. The project is a collaboration with the Gunaikurnai Traditional Owner Land Management Board, Gunaikurnai Land and Waters Aboriginal Corporation and the Gippsland Campus of FedUni.
CeRDI's role was to develop and deliver an Information Hub to facilitate information sharing relevant to the development and implementation of joint management of the Appointed Lands.
Outcomes
The Gunaikurnai Joint Management Information Hub pilot provides a mapping portal with interactive access into key sections of the Joint Management Plan. A user is able to easily navigate to the jointly managed parks and reserves, gaining access to key information and resources related to the geographic area.
A resource library has been developed and populated with almost 100 key resources including fact sheets, reports, images, videos and research outputs.
Other FedUni researchers involved in this project include Dr Fred Cahir, Associate Professor in Aboriginal Studies, and HDR student Sarah McMaster, both from the Faculty of Education and Arts, who contributed through the preparation of a literature review and report on the Gunaikurnai traditional ecological knowledge of fire.
Technical Features
The mapping portal has implemented more of a story-telling approach to delivering key information. The map provides a guided mechanism to navigate through the parks and reserves, allowing the user to interact with the map but also presenting relevant textual and other information automatically.
Approach
CeRDI's innovative eResearch technologies and practices have been applied to empower knowledge custodians with the capability to share their information and/or data in the same virtual space without losing custodianship or ownership of the information.
With stakeholder input technologies and tools seamlessly link information from Parks Victoria, Department of Environment Water Land and Planning (DEWLP), Aboriginal Affairs Victoria, the Bureau of Meteorology, GeoScience Australia, Australian Bureau of Statistics (ABS) and other relevant information sources.
Research will be conducted alongside this project to explore the impact of the hub on decision making and practice change.
Future Directions
It is anticipated that the Gunaikurnai Information Hub will be expanded through a staged approach over time with the goal of inspiring and encouraging the broadest possible stakeholder participation whilst also providing a platform for information dissemination to support future joint management of the Appointed Lands of the Gunaikurnai people.
RESEARCH OUTPUT

Cahir, F., McMaster, S., Clark, I. and Thompson, H. (2016) Aboriginal Ecological Knowledge - Gunaikurnai Information Hub. Gunaikurnai Traditional Owner Land Management Board Gunaikurnai Land and Waters Aboriginal Corporation. Federation University Australia: CeRDI, Mt Helen Campus.