Central Highlands Digital Enterprise Program
The Central Highlands Digital Enterprise program, branded as DigiBiz, is an Australian Government-funded initiative under the Digital Enterprise program.
Program Focus
Federation University Australia through the Centre for eResearch and Digital Innovation is working with the City of Ballarat, Golden Plains Shire, Hepburn Shire, Pyrenees Shire, Regional Development Victoria and regional stakeholders to deliver a dynamic awareness and skills development program aimed at getting regional businesses and not-for-profit entities ready for the advantages that will flow from the rollout of the National Broadband Network (NBN).
Further Information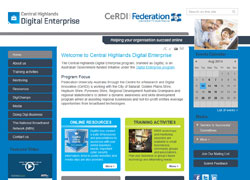 All event, workshop and mentoring information is now provided through the Digibiz website.

For further information on the Central Highlands Digital Enterprise program contact:
Gerrie Carr-MacFie
Project Manager - Digital Enterprise
Centre for eResearch and Digital Innovation
Federation University Australia
Phone: 03 5327 9364 (Mon-Thurs)
Email: g.carr-macfie@federation.edu.au


Helen Thompson
Director
Centre for eResearch and Digital Innovation
Federation University Australia
Phone: 03 5327 9418
Mobile: 0417 059 659
Email: h.thompson@federation.edu.au