Content Management
CeRDI has extensive experience in developing and delivering online services in a variety of community and organisational contexts. Our specialist tools support the delivery of local, state-wide and national web-based services in the education, primary production, tourism, arts and cultur, export, industry, enterprise, regional development and community contexts. CeRDI provides clients with access to a range of web-based products and services to facilitate the delivery of online information and services.
The CeRDI Content Management Suite (CMS) has been developed, extended and improved over a period of more than eight years. The modules from which the suite is comprised form the basis for the ongoing maintenance of many of the initiatives deployed by CeRDI. With basic training, these modules support individuals and organisations in taking full control of the services and content for which they are responsible. Delivered services provide a foundation that can grow and expand to meet future needs. All services are designed to support clients in achieving 'full ownership'. They also share the following characteristics.
Secure web-based access requiring no software apart from a web-browser.
Template-based format allows users to concentrate on content and less on layout and style.
User roles provide control of access privileges and responsibilities.
Work-flow rules ensure integrity and verification of updates.
What you see is what you get (WYSIWYG) editing.
Fast, user friendly and intuitive.
Powerful reporting and search capabilities.
Immediate access to product upgrades and enhancements.
Extensive documentation (paper-based and online).
Ongoing access to helpdesk and technical support.
How does it work?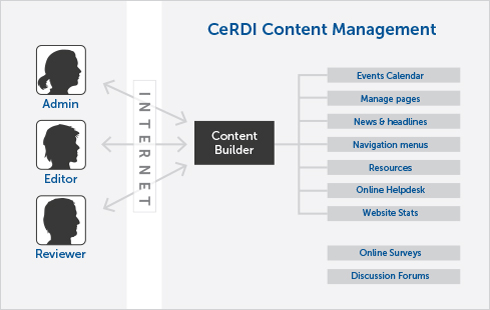 Content Builder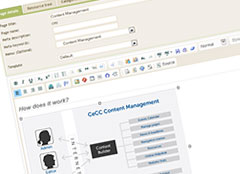 CeRDI Content Builder is a powerful content management system (CMS) for publishing information to a website. This application allows for effective management of content which needs to be changed on a regular basis. It is a flexible application which can be adapted to manage many areas of a website. This product includes image/file uploading, 'What You See Is What You Get' editing, and produces highly functional pages with little effort. CeRDI Content Builder is the primary application used to manage website content. It provides control of:
Creating and managing website pages.
News headline and article management.
Creating and maintaining site navigation menus.
Uploading and managing resource files (Word documents, PDFs, etc)
Managing web links.
Featured items like random images, featured sponsors, etc.
Events Calendar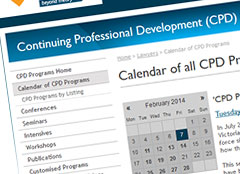 CeRDI Events Calendar provides a simple and effective means of publishing and promoting event information online. This easy to use product was one of the first to be developed by CeRDI and is still one of the most popular among users. Many examples of the Events Calendar can be viewed by visiting websites developed by CeRDI including the Grampians Integrated Cancer Service and Birchip Cropping Group.
Online Surveys
CeRDI has extensive experience working with web-based surveys from conception and design to collection and analysis. Where specialised analysis and customisation is required, CeRDI can develop custom-built survey applications for situations such as skills mapping, accreditation or learning systems. Where fast and cost-effective survey creation is required, CeRDI provides access to phpESP- an open source survey generator program.