Accessible...from the ground up!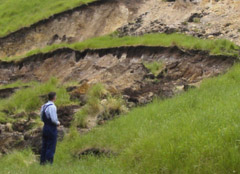 Highly-valued environmental and urban assets are managed and protected by a plethora of stakeholders, each seeking out information specific to their unique requirements.
In order to streamline access to a range of land information, the Corangamite Catchment Management Authority (Corangamite CMA) initiated the Internet Distribution of Data Project - a web-based, interoperative Geographic Information System (GIS).
Harnessing years of data from Federation University Australia's (FedUni) School of Science and Engineering Geology department (and other collaborators), the project provides a cost effective information tool to support decision-making quickly and intuitively with respect to salinity, erosion, landslides and groundwater.
"Our relationship with UB has been in place in excess of 15 years, primarily through the Geology department's Peter Dahlhaus", explains Peter Codd, Community & Partnerships Program Manager at Corangamite CMA. "It has been an ongoing and extremely rewarding relationship".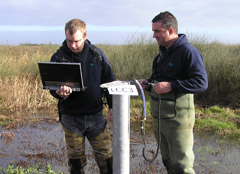 It was Peter Dahlhaus' vision to see the data become accessible, and he continues to be a driving force behind the project. "At Corangamite CMA we were extremely pleased with the way the UB team were prepared to work in collaboration on this innovative project, where both the Corangamite CMA and UB were truly in a partnership to get this new 'GIS tool' to work - it is still new territory" says Peter Codd. "A bonus has been the various other people and organisations that UB has brought to the project - people the Corangamite CMA did not have prior exposure to. It has added depth to the project".
Knitting gigabites of information into an easy to use, functional, web-based environment fell to the University's Centre for eResearch and Digital Innovation (CeRDI).
"Our expertise in web-based application development coupled with our extensive database development skills have provided the missing link between GIS experts and the public," says Andrew MacLeod, Manager Technical Projects with CeRDI.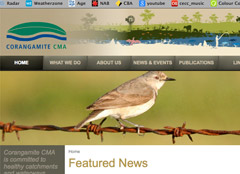 Aligned to several Corangamite CMA strategies, the project allows for easy identification of priority areas and threatening processes which pose a risk to assets. The information and maps generated by this system can be accessed widely and will contribute to the knowledge and understanding of catchment managers, researchers and consultants, government, community and private organisations, including members of the general public.
"This project has increased our knowledge and understanding of land and water processes throughout the region," notes Peter Codd. "As a result, decision-making is well informed, and land management strategies can be improved and implemented. The findings are continually being modified and applied".
In addition to Corangamite CMA's significant investment, UB - which contributed much of the data - provided $25,000 of hardware to support CeRDI's work.
"The scaleable nature of the system means new stakeholders can add their information, and the project may be expanded to a national level over time," explains Andrew. "This is a perfect example of excellent collaboration between a diverse and knowledgeable team."