Birchip Cropping Group - BCG
Background
The BCG (Birchip Cropping Group and Wimmera Farming Systems) is a farmer-driven agricultural organisation operating as a not-for-profit incorporated association, conducting applied research and extension on all the major crops grown in the region. BCG aims to investigate the critical success factors that ensure sustainable and profitable crop production systems.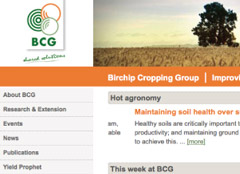 Improved viability of local rural communities, as stated in BCG's mission, is also a priority. All of the Group's information is not only freely distributed, but also passionately promoted. A manual of trial results, distributed free to 6,000 farmers in four states, has been the BCG's definitive publication.
The BCG has trial sites at several locations in the Mallee, Wimmera and North Central regions, covering all the major soil types and climate zones. The Group has 500 farm business members. These members direct the focus of all trial and extension activities through a Trials Subcommittee consisting of farmers, technical and industry representatives. Field days and information expos are consistently well attended, attracting in excess of 3,500 visitors annually.
Services Delivered
Complete website management including news, events, navigation and resources facilitated by the web-based Content Builder.
General website services

Detailed usage statistics
Website search
Online forms for feedback and enquiries
Dynamic navigation and sitemaps

Comprehensive members area

Resource and document management for the distribution of critical information such as fax bulletins, climatic data, hot agronomy topics, member news and discussion forums.
Virtual Agronomy application provides up-to-the minute trial information, rainfall data and hot topics as well as a searchable archive of 600 trials dating back to 1998.

Speakers database containing information on past presentations and field day speakers.
Syndicated weather information from the Bureau of Meteorology.
Online surveys created and managed by the BCG.
The BCG website contains over 300 pages and 600 resource files (not including the virtual agrononomy application).
Methodology
Nominated representatives of BCG are responsible for all ongoing maintenance, which includes functions such as publishing content, uploading files and ensuring currency of the information. CeRDI provides BCG with assistance in developing appropriate evaluation measures for the website and in documenting and disseminating information on the processes, outcomes and challenges for its various functions. This helps to ensure the website continues to meet the desired outcomes of BCG.
Outcomes and Benefits
The usage of the BCG website has increased exponentially over recent years as new features and functions have been added. The appointment of a dedicated website manager within BCG has definitely helped in this process. The website now averages over 400 individual visits per day and over 1,200 page views. This is quite incredible for an organisation of this nature. The BCG now includes web services in all its strategic planning and attracts funding for various web-based initiatives.