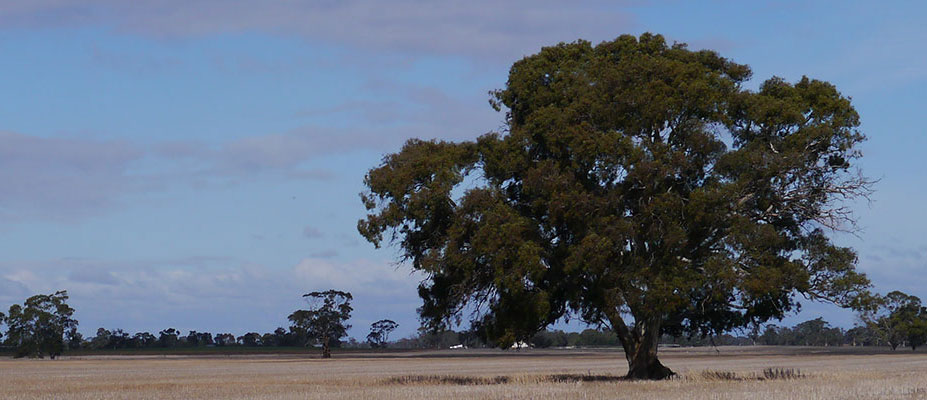 South Australia (SA) Tree Watch
The SA Tree Watch project aims to collect spatially-explicit data and citizen science observations on patterns of tree health decline in South Australian rural landscapes using a custom-built web-based platform.

Background
The SA Tree Watch project was initiated to address the problem of dying trees in the Coorong and Tatiara districts of south-east South Australia, and the need to collect spatially-explicit data on patterns in tree health decline in order to diagnose probable causes.
To address this problem and need, CeRDI has designed a web-based platform to allow rapid and easy sourcing of community observations on occurrence and symptoms of tree decline. The portal features a mapping interface for users to locate trees on a satellite image and add information on their observations of tree type, ill health symptoms, and land use and to upload photos. This information, together with other relevant spatial datasets, will populate a custom-built spatial database and be used to construct visualisations.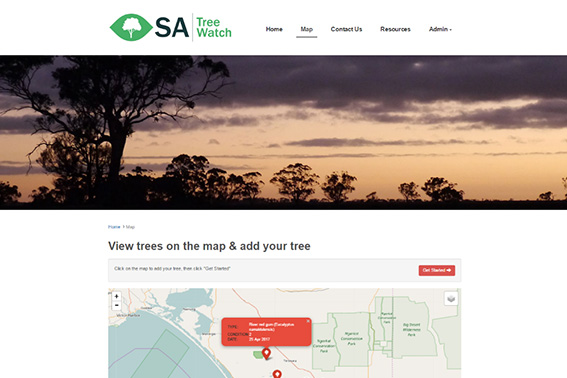 Information collected from the community and landholders will be analysed alongside existing spatial and non-spatial datasets relating to tree ecology, land use and landscape features (e.g. soil type, waterways and wetlands, roads). By dynamically linking all relevant datasets with crowd-sourced tree observations, the portal will enable identification of factors influencing tree health. This in turn will facilitate development of appropriate management actions for reversing tree decline.
This project represents a Federation University collaboration between CeRDI and the School of Health and Life Sciences and draws upon foundational work undertaken by Dr Nick Schultz and Dr Megan Good describing the problem and likely causes (Schultz and Good 2015

).
Outcomes
This project is in its final testing phase, and is expected to go live during autumn 2017. As part of the launch, Dr Schultz and his research team will visit key stakeholders in South Australia to demonstrate the portal and train people in its use. This will provide additional user testing information as well as increasing awareness in local communities of the portal and opportunities for them to share their knowledge and observations.
The anticipated outcome of this project is a spatially-explicit model of the distribution of trees showing signs of ill health and identification of likely drivers of declines in tree health.
Innovation
The SA Tree Watch site takes a novel approach to the collection of scientific data for environmental assessment purposes. It draws upon several common tools (interactive map, crowd-sourcing / crowdspot style of data entry), supported by a bespoke database, to encourage citizen science contributions in relation to a matter of statewide environmental concern.
The SA Tree Watch site will be a test case for crowd-sourcing information that will significantly contribute to a body of data intended for scientific analysis and publication. If successful, it will provide a benchmark for the better design of citizen science program and incorporation of citizen science findings into ecological research.
Technical Features
The platform is built using modern technical standards and the latest technology stack - Laravel framework and Angular JS. These technologies were used in the development phase to help achieve ease of use of the application as well as efficient collection and storage of survey data. Modern technical standards ensure maintainability and that the platform can easily be extended to provide further planned functionality in the future.
SA Tree Watch includes a questionnaire style interface to enable users involved in the study to provide responses to study questions. The interface was designed to be clear, concise and helpful in order to enable easy completion of the questions. It includes helpful images and diagrams to assist in responding to questions where technical knowledge of tree species may be required. SA Tree Watch also includes an administration area where survey responses can be viewed and exported in a raw format to allow further data analysis by the researchers.
The mapping interface built into SA Tree Watch allows users to visualise trees entered into the system. Open source technologies such as Open Layers and Open Street Map were used in building the mapping interface. There is further data visualisation functionality and the addition of other layers related to tree ecology planned for future releases. This will further assist with identifying the possible causes of poor tree health.
Approach
The web-based platform designed for this project builds on the principles of other crowd-sourcing platforms to elicit information from community members, particularly farmers, about tree health in their area. It is designed with a simple mapping interface, clear navigation and visualisations to step users through information entry to a custom-built form. No user registration is required, although users are encouraged to submit information about themselves to allow researcher follow up.
Once information is contributed to the portal, it is immediately visible on the map, which is an important step to acknowledging the contribution made by the community. The inclusion of additional map layers in the future will allow rapid interpretation of the distribution of impacted vegetation in relation to other landscape features.
Future Directions
Once the site is live, information gathered through it will be assessed by the research team to determine how the community interacts with the site, and the value of information it gathers. As data is collated through the site, preliminary analyses will be conducted by the research team to look for spatial trends and environmental correlates with tree health decline.

NEWS

Another new web portal enabling citizens in the Coorong and Tatiara regions of South Australia to document the health of their local trees has recently been launched. Continue reading...
PARTNERS